What are AI Copywriting tools?
AI copywriting tools are software programs that use artificial intelligence algorithms to generate high-quality written content automatically. These tools can help businesses and individuals create compelling marketing copy, product descriptions, email campaigns, and other types of content quickly and easily.
AI copywriting tools use natural language processing and machine learning technologies to analyze data and generate content that is tailored to meet the needs of specific audiences. These tools can save time and effort for content creators, allowing them to focus on other important aspects of their business. 
What are the benefits of AI Copywriting tools?
ChatGPT is so popular, I am sure even the cavemen have heard of it. It's literally everywhere. ChatGPT is a powerful tool that can be used for a variety of tasks, including copywriting. But there are other AI copywriting tools beyond ChatGPT. They are becoming increasingly popular for a variety of reasons. Here are some benefits of using these tools:
1. Saves time: With AI copywriting tools, you can create high-quality content in a fraction of the time it would take to write it manually. This frees up your time for other important tasks.
2. Consistency: These tools ensure consistency in your writing style and tone. It ensures that you maintain a consistent voice across all your content.
3. Increased productivity: With AI copywriting tools, you can create more content in a shorter amount of time, which can increase your productivity significantly.
Checkout these best AI copywriting tools that will help you save your time and money!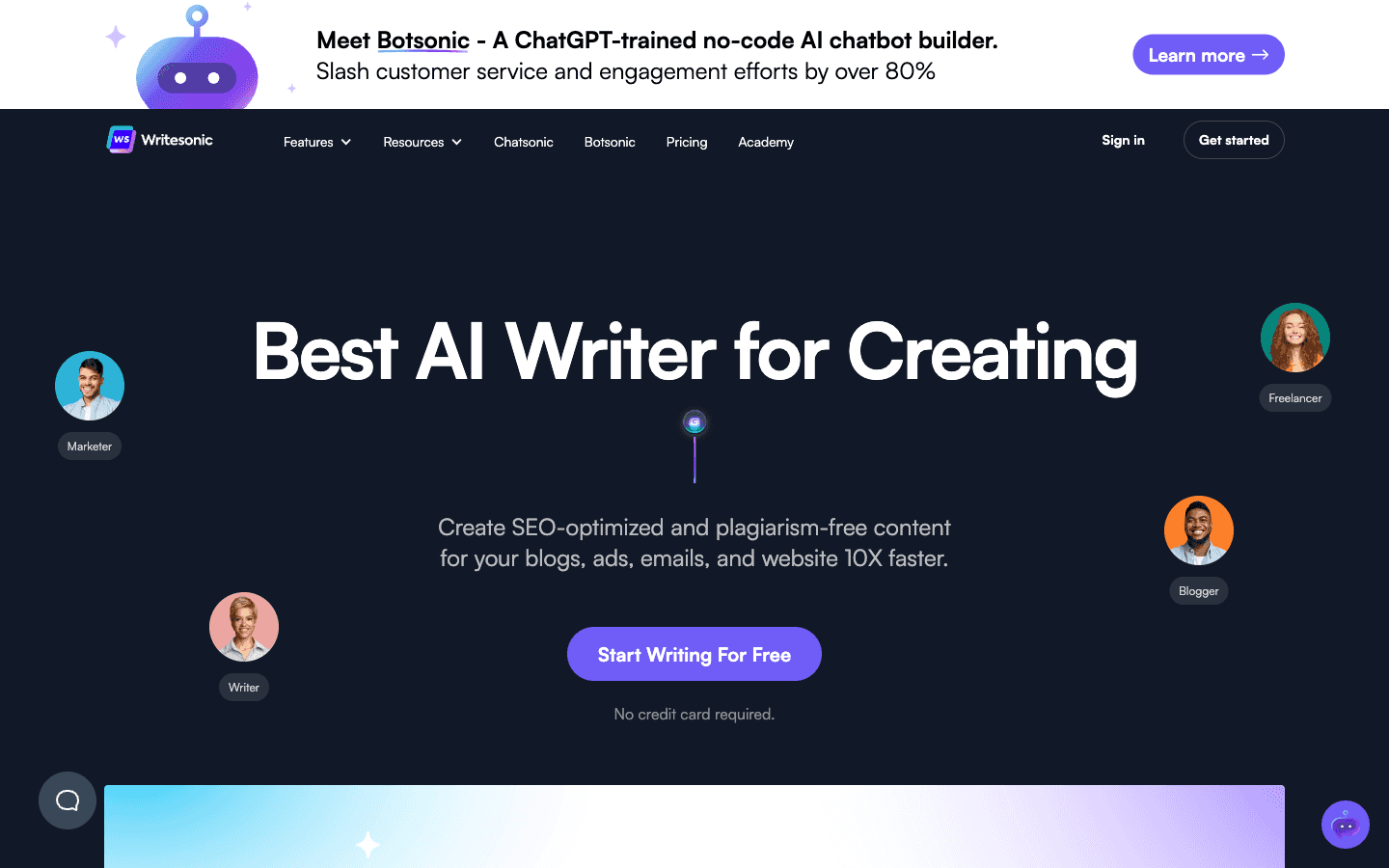 "Meet Writesonic - an AI-based tool that simplifies creating SEO-friendly content for your blog, Facebook ads, Google ads, and Shopify. With its innovative AI writer, you can easily generate unique and compelling content for different platforms. The tool also offers a paraphrasing feature that allows you to rephrase entire articles quickly, saving you time and effort. 
Key Features:
 - Innovative AI writer: Create unique and engaging content for various platforms, including blogs, Facebook ads, Google ads, and Shopify.
- Paraphrasing tool: Rephrase entire articles instantly, saving time and effort.
- Effortlessly create high-quality content, saving time and effort.
- Boost your SEO rankings and increase website traffic with SEO-friendly content.
- Create engaging Facebook and Google ads that convert more customers.
- Streamline your Shopify store by creating product descriptions and other content with ease.
- Use the paraphrasing tool to save time and avoid plagiarism. With Writesonic, you can easily create high-quality content for various platforms and streamline your workflow.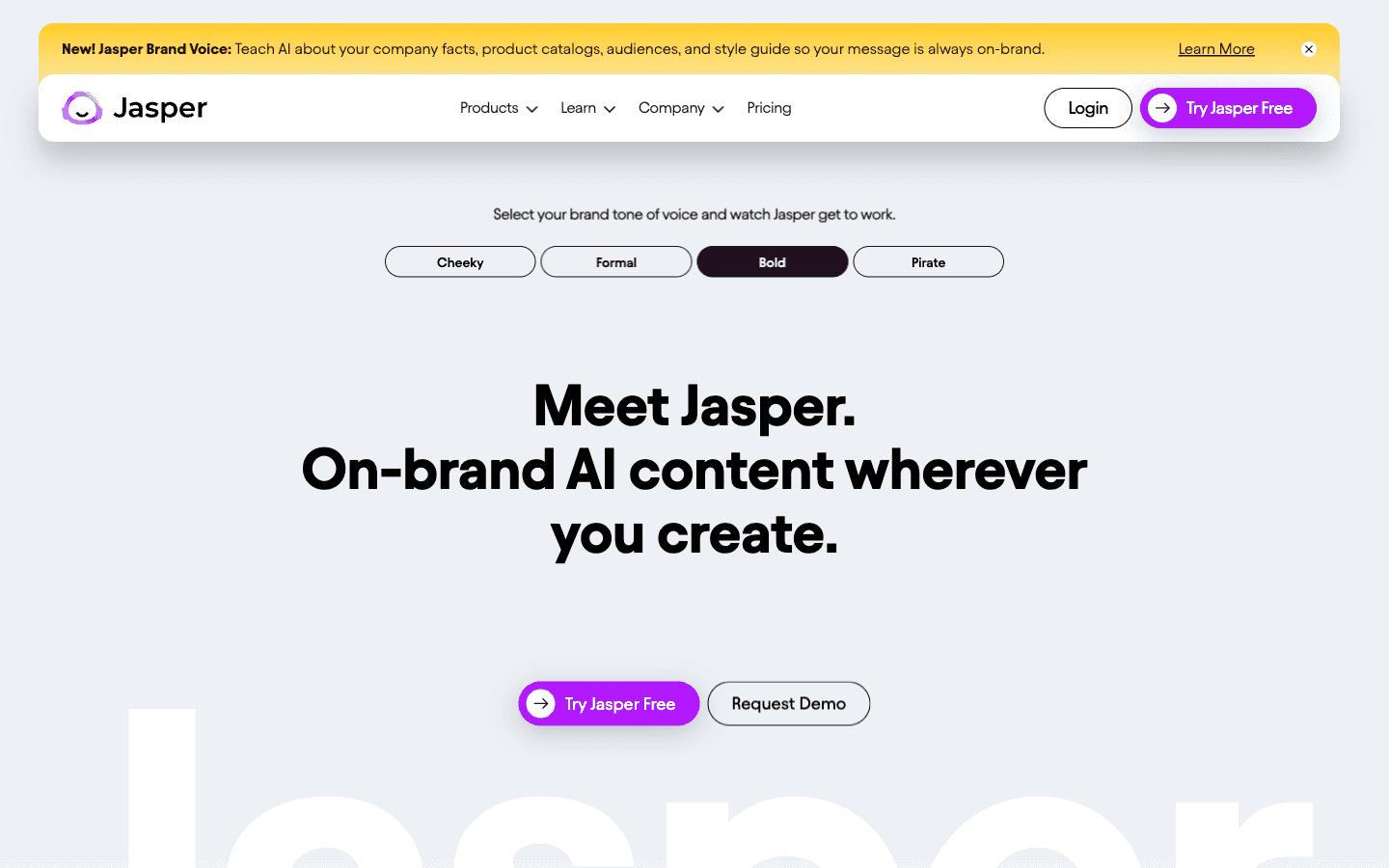 Jasper is an AI tool that helps teams create high-quality content in an efficient manner. It is designed to cater to various professionals such as marketers, content creators, and businesses. With Jasper, you get intelligent writing that is powered by AI, which can write on almost any topic with long-form content generation and a built-in plagiarism checker.
Jasper offers versatility with 29+ languages, 20+ templates, and a Chrome extension for seamless integration into workflows. It also has SEO integration and works with Surfer SEO to optimize content for better search engine rankings. With Jasper, marketers can create persuasive ad copy, video scripts, and LinkedIn articles, while content creators can generate blog posts and marketing materials. Additionally, businesses can use Jasper to generate AI-generated images and unique marketing angles.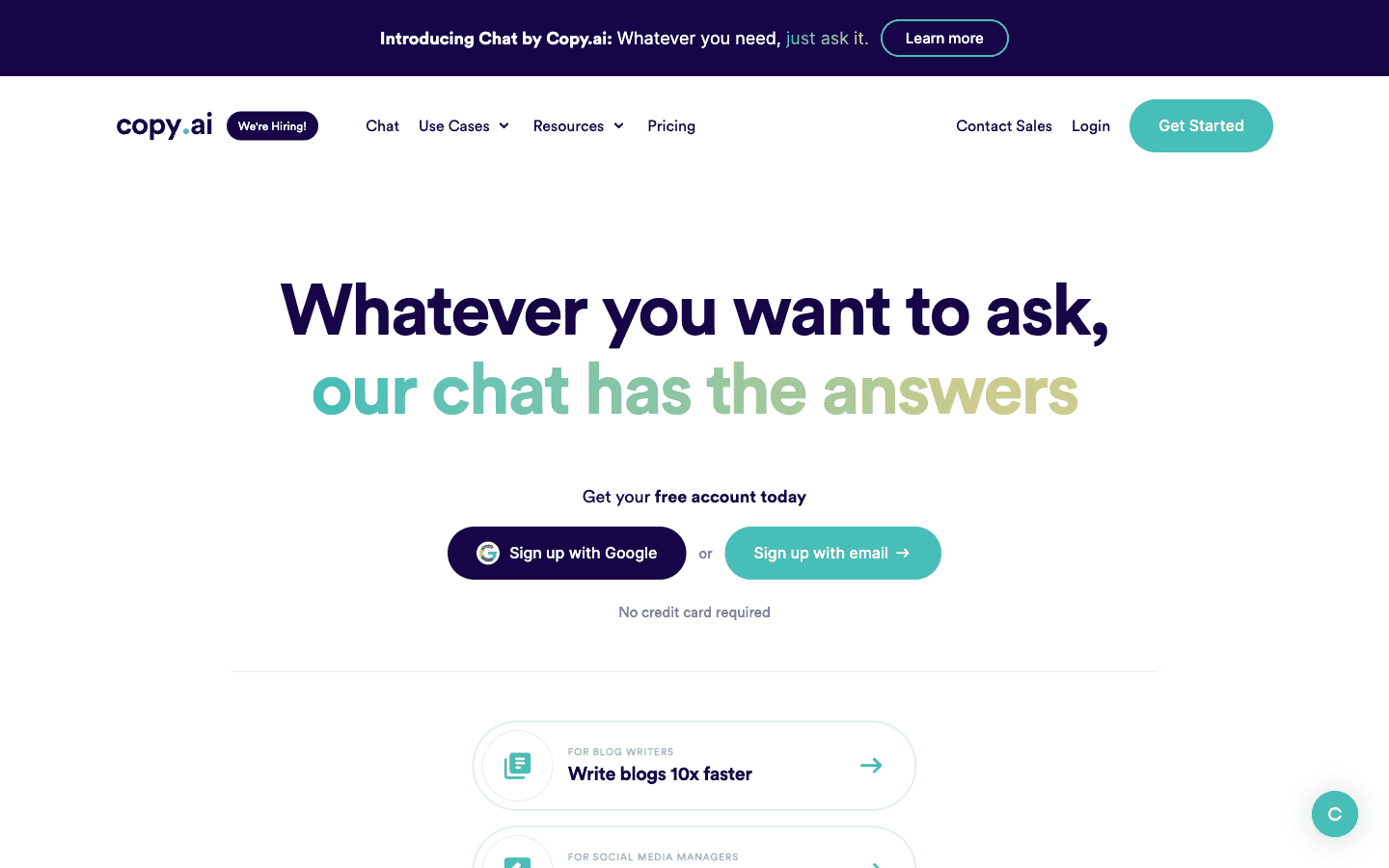 Copy.ai is an AI-powered content generator that helps you create high-quality content for various use cases. It's a platform that allows you to enter your copywriting project, such as social posts, long-form blog posts, and emails, and then gives you AI-generated results. You can edit and polish the content using Copy.ai's editor.
Copy.ai also provides over 90 tools and templates, giving you the freedom to write in 29+ languages. The platform is being used by more than 7,000,000 professionals and teams worldwide and offers a free account with 2,000 free words per month.
Users praise the platform for its ease of use, time-saving capabilities, and high-quality content generation. The "First Draft Wizard" and Freestyle tool are highlighted as game-changers in content creation. It's a great tool for blog writers, social media managers, and email marketers who want to write faster and more engaging content.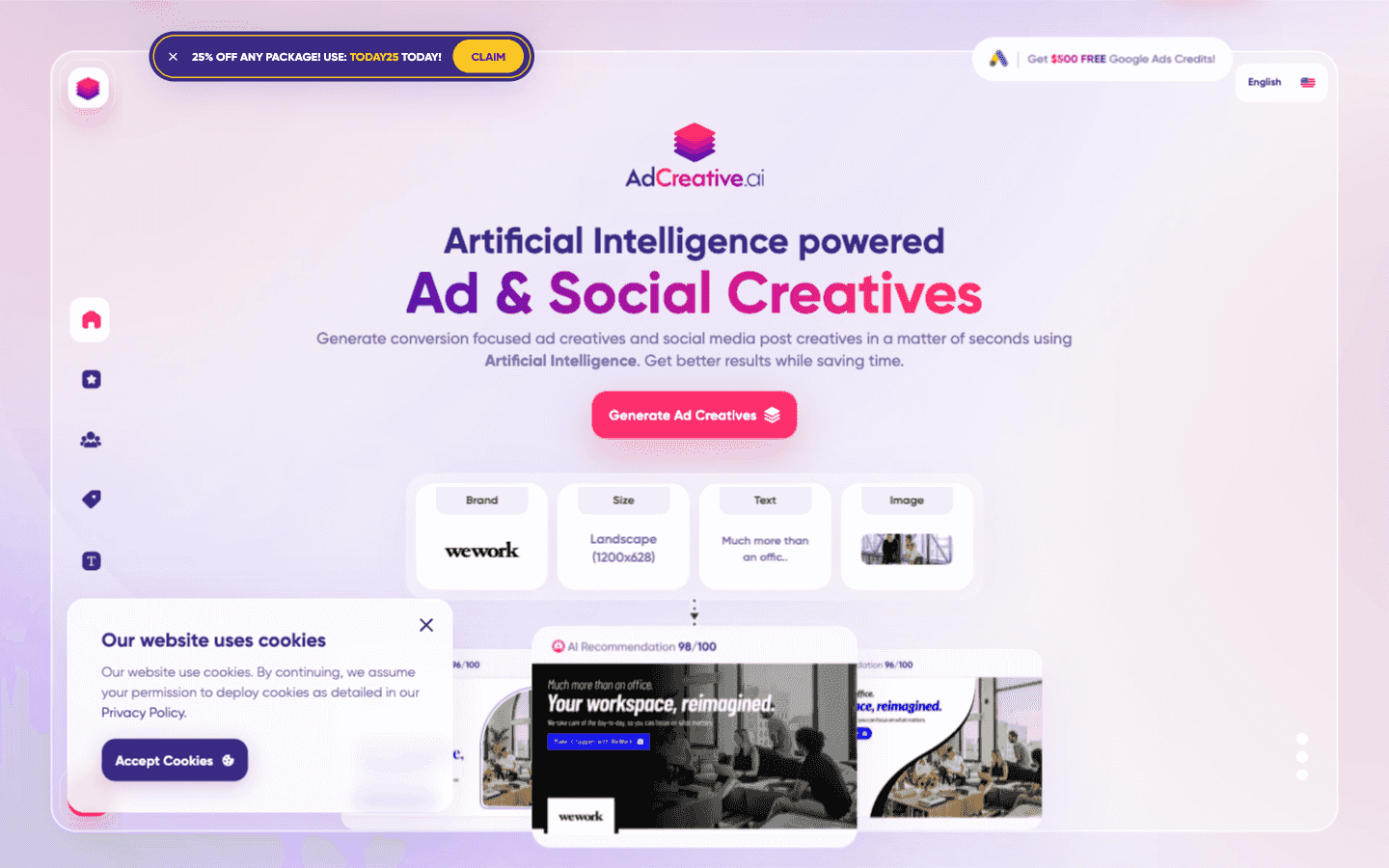 AdCreative.ai is an AI tool that generates ad creatives and banners to help businesses increase conversions. It offers various features and advantages such as generating ad creatives in just a few minutes, providing AI-driven insights, and integrating with platforms like Google, Facebook, ADYOUNEED, and Zapier.
The tool is ideal for marketers, e-commerce stores, startups, and agencies looking to streamline their advertising activities. AdCreative.ai also provides insights on creative performance, multi-user access, and plans ranging from $29 to $149/month with discounts on yearly subscriptions.
Rytr is an AI writing assistant that helps you create high-quality content. It offers a variety of writing modes, including blog posts, social media ads, product descriptions, email, and more. You can choose the tone and style of your content, and Rytr will generate text that is tailored to your needs. Some of Rytr's key features include:
A wide range of templates: Rytr has a wide range of templates that you can use to create different types of content. For example, you can use the blog post template to create a blog post, or the product description template to create a product description.
The ability to customize your content: Rytr allows you to customize your content by changing the tone, style, and length of the text. You can also add your own keywords and phrases to the text.
The ability to generate multiple versions of your content: Rytr allows you to generate multiple versions of your content so that you can choose the one that you like best.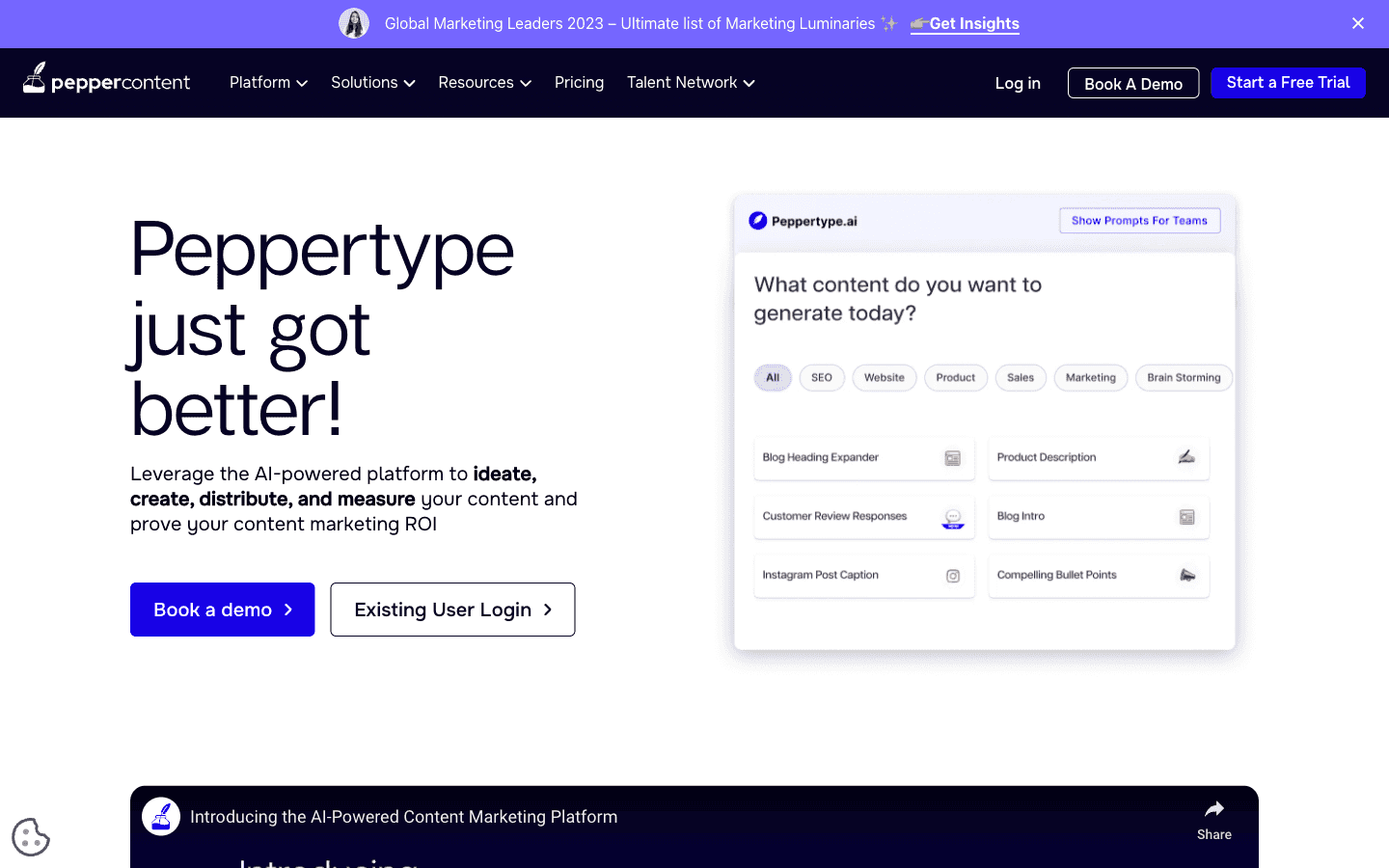 Peppertype.ai is an AI-powered tool that helps you create quality content quickly and efficiently. It uses advanced NLP algorithms to generate tailored content based on your preferences and automatically optimizes it for higher Google rankings with SEO optimization.
Peppertype.ai can also repurpose your existing content and generate customized content in seconds. This tool caters to various professionals, including content creators, social media managers, email marketers, SEO managers, and product managers. It's an invaluable tool for anyone seeking to produce high-converting emails, long-form content, ad copies, or engaging content for social media and emails while optimizing it for search engine rankings. With support for global languages, Peppertype.ai has a growing user base and is a must-have tool for content creation across industries.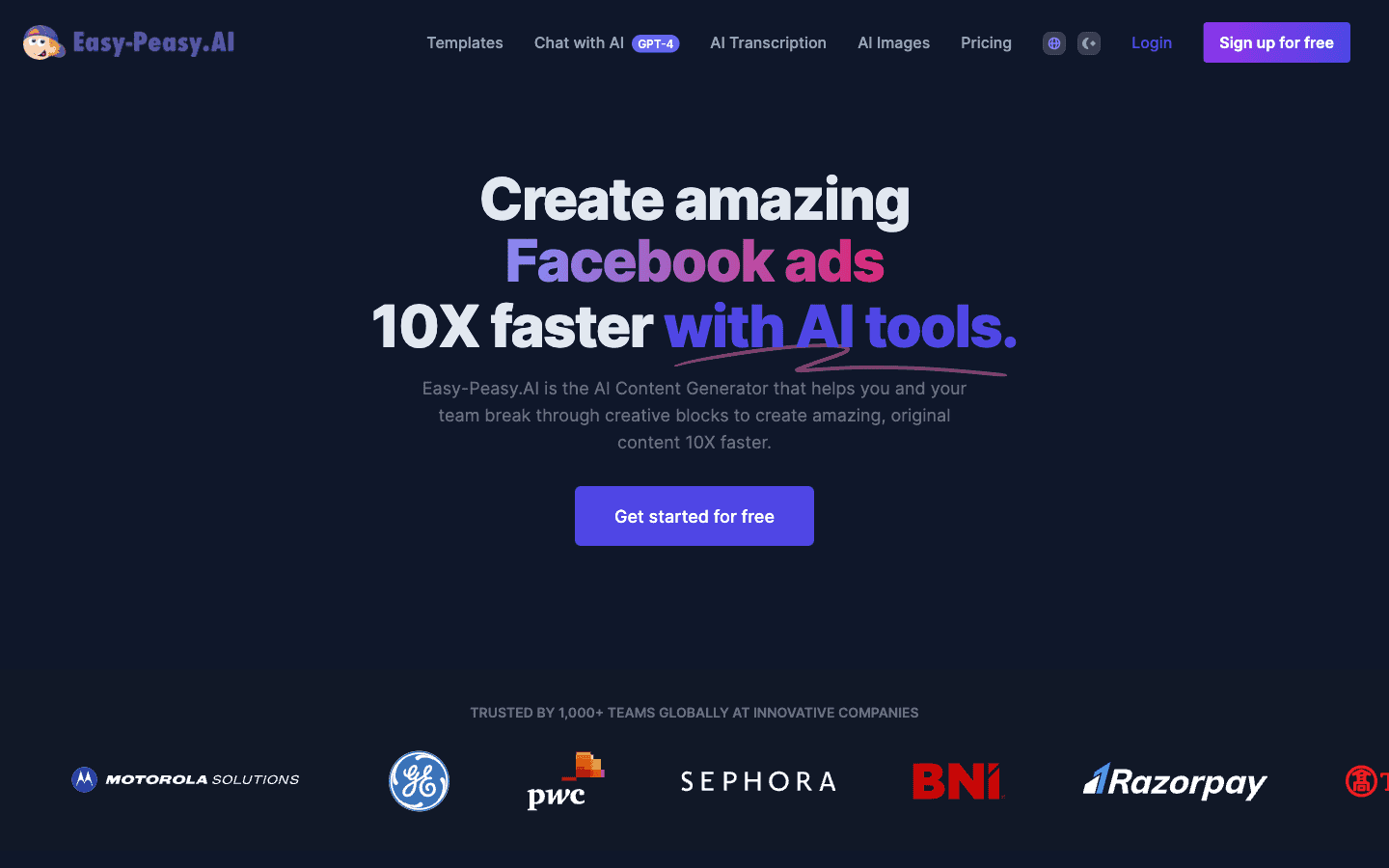 Easy-Peasy.AI is an AI-powered tool that simplifies content creation for individuals and teams. Its main features include AI copywriting templates, AI images, AI transcription, and an AI assistant called Marky. With over 80 copywriting templates to choose from, the tool can help you craft compelling and professional copy in no time.
It can also generate stunning visuals and transcribe audio content accurately and quickly. Marky, the AI buddy, can assist you in crafting your content through natural language conversation. Easy-Peasy.AI is perfect for content creators who want to save time and effort while producing high-quality content. It's also great for marketing teams and businesses looking to enhance their content strategy using AI technology.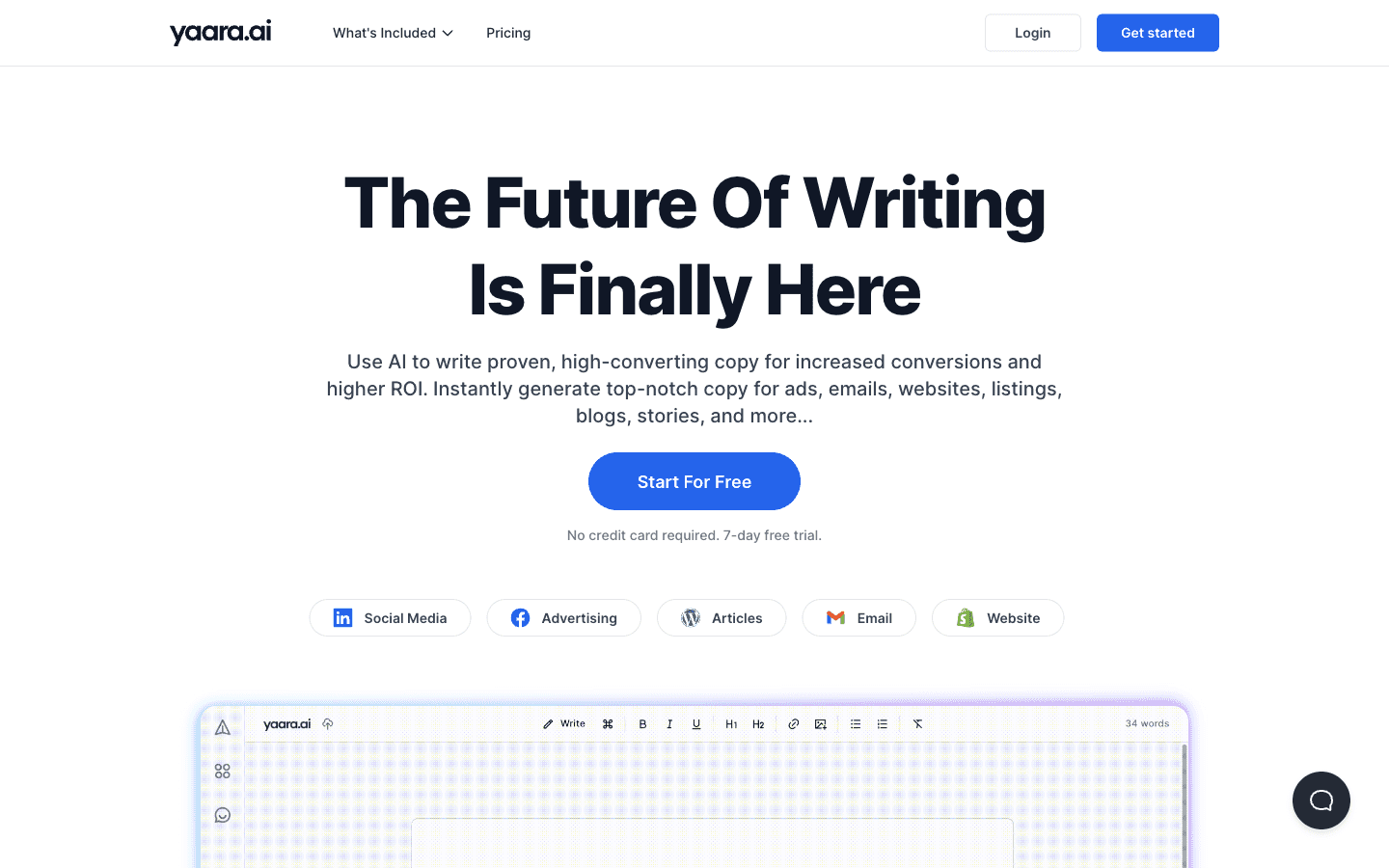 Yaara is an AI-powered writing assistant that can help you write better and more engaging content. It can generate high-quality blog posts, social media posts, emails, and more. Yaara is trained on a massive dataset of text and code, and it can understand the context of your writing and generate content that is relevant and engaging.
Yaara is a powerful tool that can help you save time and improve your writing. It is perfect for anyone who wants to create high-quality content, whether you are a student, a blogger, or a business owner. Some of the features of Yaara includes
Generating high-quality content in minutes. Understanding the context of your writing and generating relevant content. Providing feedback on your grammar, style, and clarity. Saving your time and improving your writing skills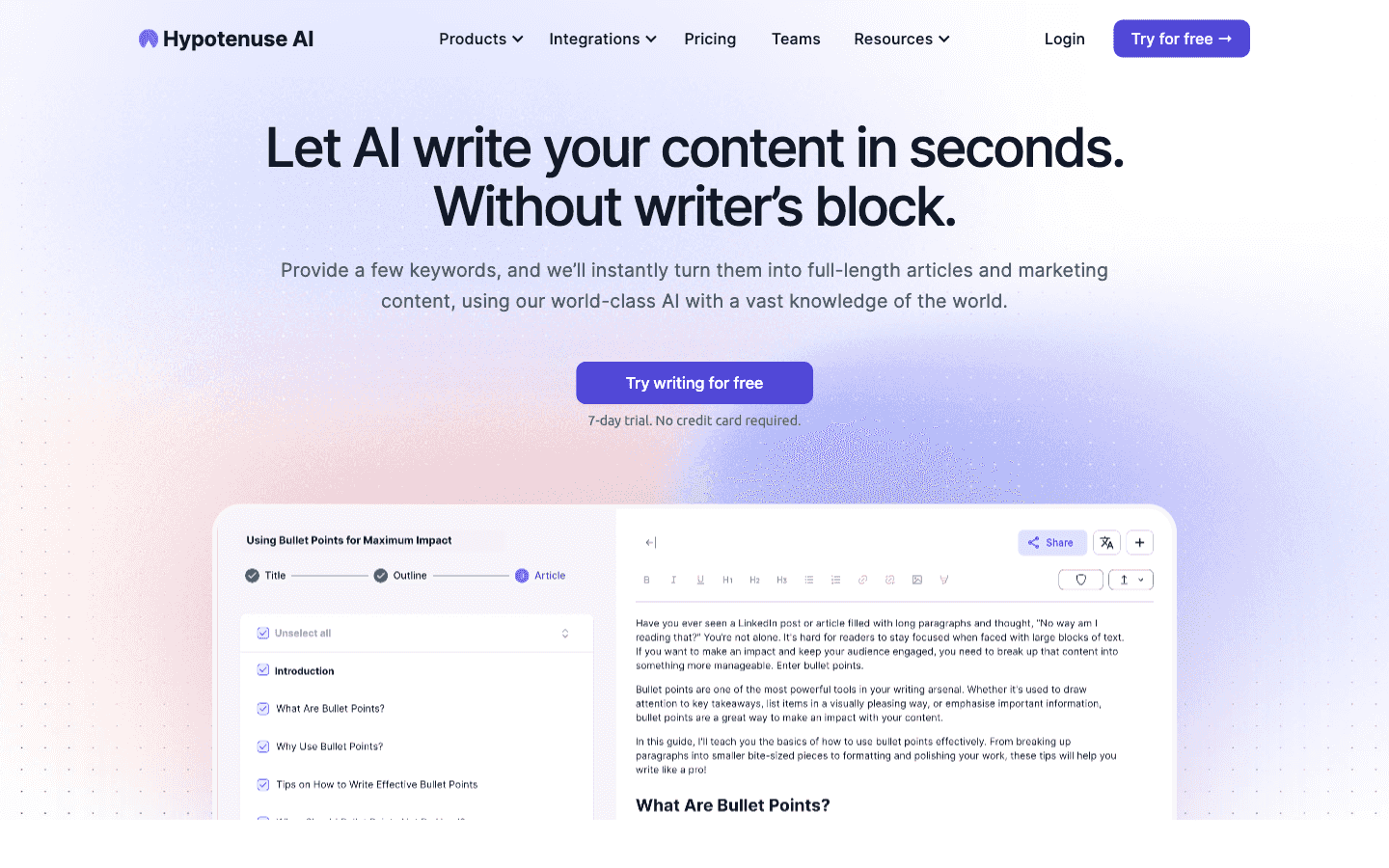 Hypotenuse AI is an AI-powered writing assistant and text generator that makes it easy to create original, high-quality content. It's versatile and can be used to generate articles, product descriptions, and social media posts with just a few keywords. The tool also streamlines the writing process with powerful editing tools, a plagiarism checker, and multiple export formats. Hypotenuse AI integrates with Shopify and WordPress, allowing you to publish content directly to these platforms. Content creators, e-commerce businesses, and marketers can benefit from Hypotenuse AI. It's ideal for those seeking to generate engaging, well-researched content at scale, businesses requiring high-converting, SEO-friendly product descriptions, and marketers aiming to create effective ads, social media copy, and email campaigns.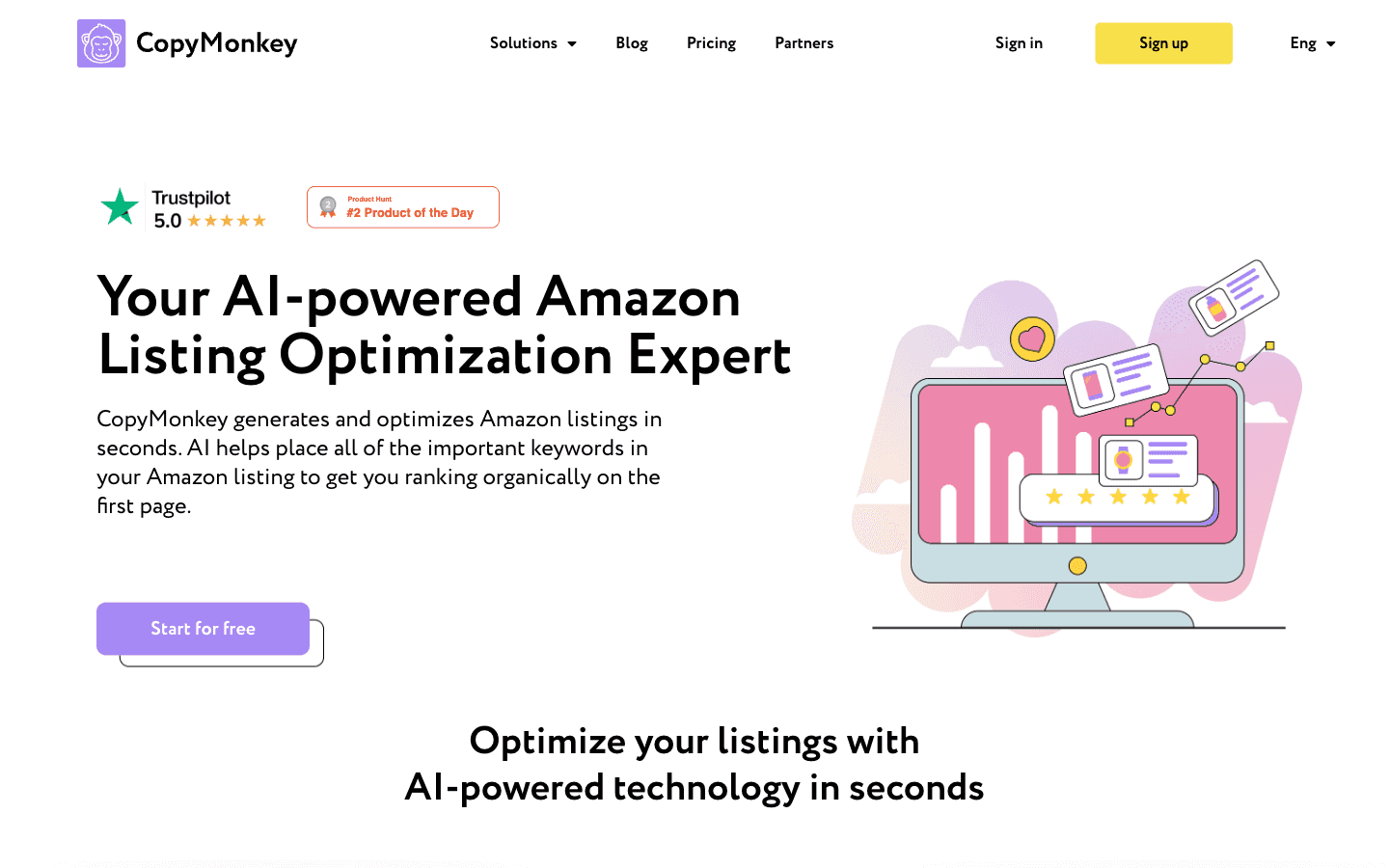 CopyMonkey is a powerful AI tool that helps Amazon sellers improve their product visibility on search engines. With over 1000 users, it is a proven solution for Amazon listing optimization. CopyMonkey has several key features and benefits, including keyword optimization, continuous optimization, an AI Amazon Copywriter, and listing improvement suggestions.
Its use cases are ideal for various types of Amazon sellers, including new sellers seeking to create optimized listings, established sellers looking to enhance their existing listings, and e-commerce businesses aiming to increase their organic ranking on Amazon. CopyMonkey generates bullet points and descriptions that incorporate important keywords customers search for, adjusts listings based on competitor insights, and creates compelling content for listings.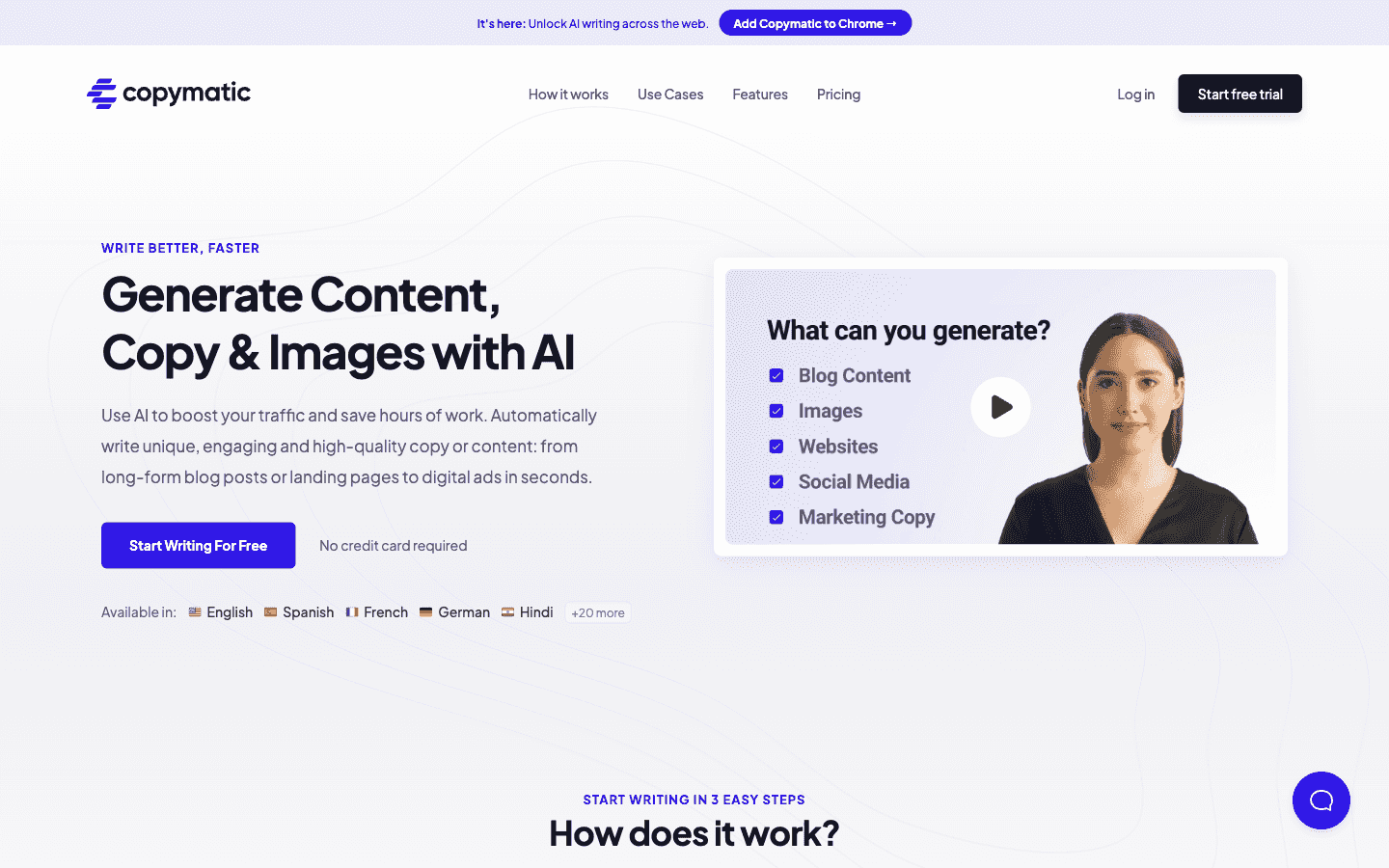 Copymatic is an AI-based writing tool that can create content for digital ads, websites, blogs, and more. It offers a range of features such as a GPT-3 AI language model that generates unique and human-like content in seconds, adjustable creativity and tone to tailor content for effective conversions, and versatile applications to create different types of content. It also has a grammar checker and rewriting feature to ensure high-quality content.
This tool caters to various content needs and is useful for digital marketers who want to automate ad copy and social media content, bloggers and content creators who aim for efficient generation of titles, intros, and outlines, and businesses that need product names, descriptions, and SEO-friendly content. With tailored plans, a free trial, and additional features like a WordPress plugin and API access, Copymatic is a valuable tool for businesses and content creators.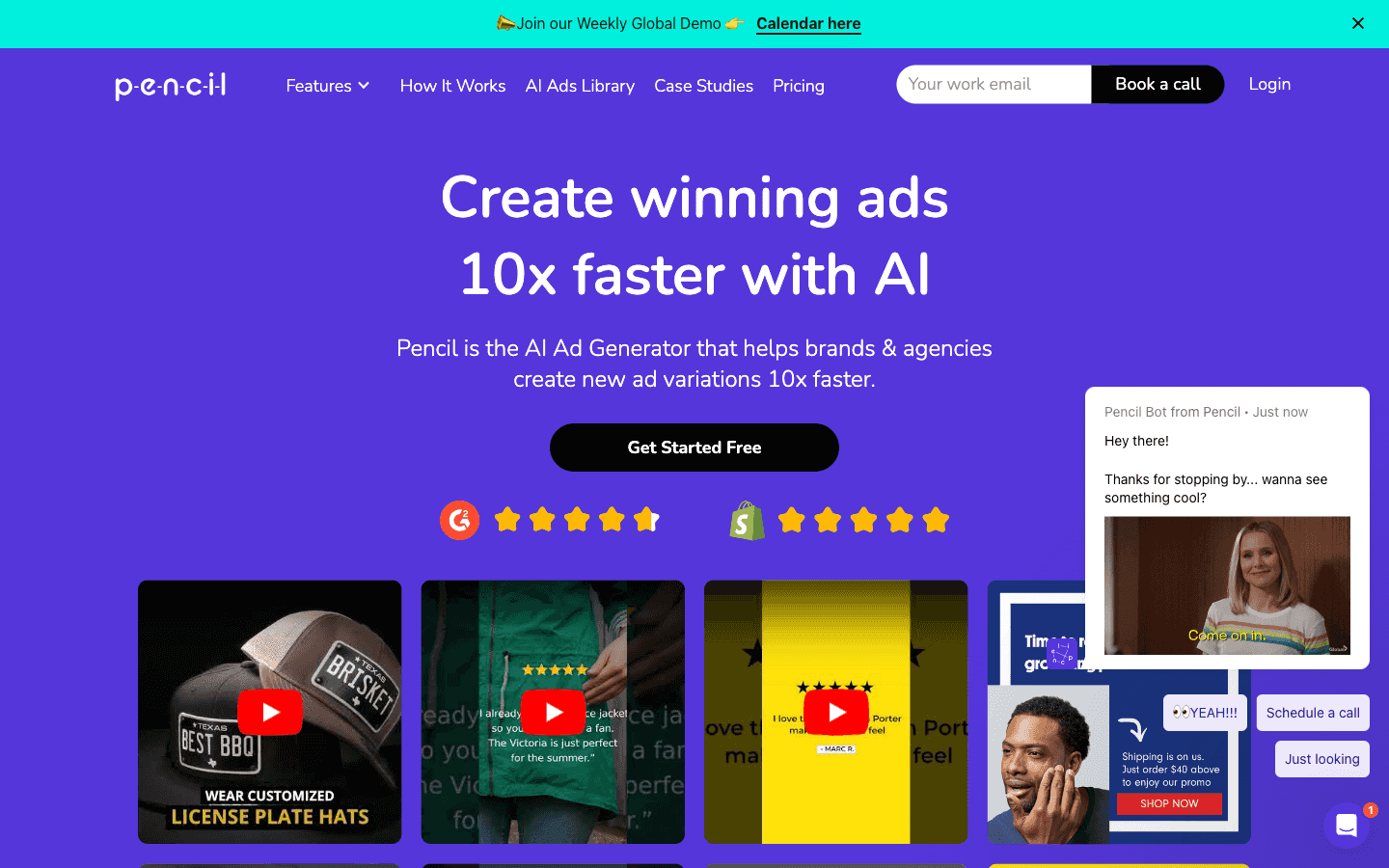 Pencil is an AI-powered ad creation tool that helps ecommerce brands create and test unlimited ad creatives. It uses machine learning to generate ad ideas, predict performance, and provide insights into what's working and what's not. Pencil is designed for fast-growing ecommerce brands who need to aggressively test a large amount of ad creative in order to deliver ROAS and CPA. Some of the features of Pencil:
Pencil can generate static and video ad ideas for all social channels and formats in minutes. Pencil uses AI predictions based on over $1 billion in ad spend to help you save money on ad testing. You can easily make changes to your ad ideas in real-time with a drag-and-drop editing experience. Pencil provides insights into copy, elements, tags, and more to help you see which of your ads are working and why. Pencil compares your ads messaging, results and tactics to other brands in your sector.
Also Read: 11 Best AI Art Generators in 2023