What are AI Design tools?
AI Design Assistant tools are AI-powered tools that help designers and non-designers create visually appealing designs for various purposes such as social media posts, websites, presentations, and more.
These tools use machine learning algorithms and natural language processing to suggest design elements, layouts, and color schemes based on the user's preferences and needs. They can also analyze existing designs and provide feedback on how to improve them.
AI Design Assistant tools can save time and effort for designers and non-designers alike, while producing high-quality designs that are visually pleasing and effective. 
What are the benefits of AI Design tools?
AI Design Assistant tools are becoming increasingly popular among designers for their ability to streamline the design process and improve productivity. Here are some benefits of AI Design Assistant tools:
1. Time-saving: AI Design Assistant tools can save designers a lot of time by automating repetitive tasks and suggesting design elements that are relevant to the project. This leaves designers with more time to focus on creative tasks.
2. Consistency: With AI Design tools, designers can ensure that their designs are consistent throughout the project. This is because the tool uses the same design elements and guidelines across all the project's pages.
3. Efficiency: These tools are designed to improve the efficiency of the design process. This means that designers can create designs faster and with less effort.
Some of the popular AI design assistants tools to help you in your next project are :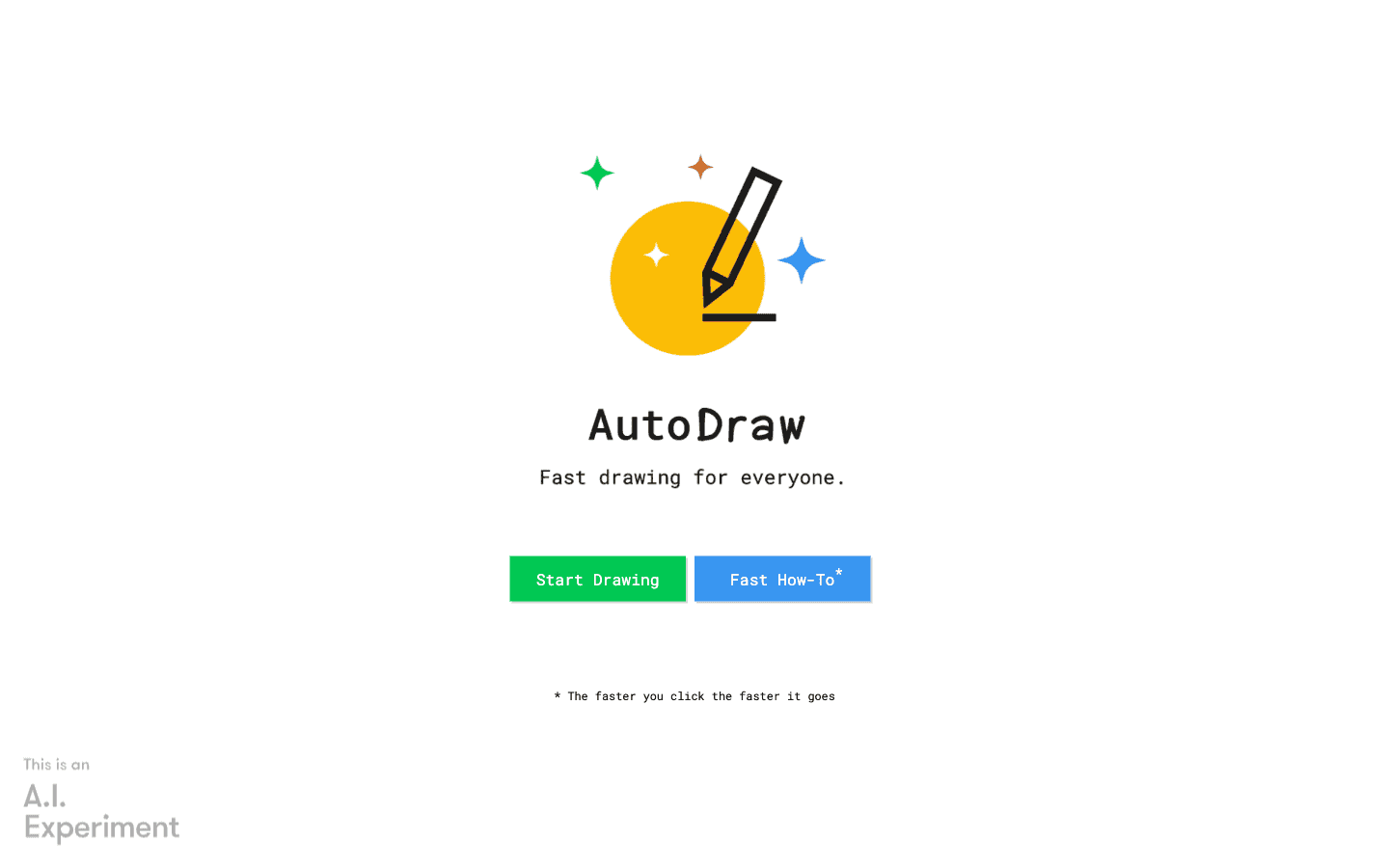 Autodraw is an AI-powered tool that helps users draw easily and quickly. It is perfect for non-artists who want to create simple drawings or designs. The tool has several key features such as its ease of use, fast drawing capabilities, and additional features like downloads and shortcuts.
Autodraw also offers a unique learning experience where users can learn from featured artists on the platform. It is suitable for design enthusiasts who want to learn from talented artists and educators and students exploring the capabilities of machine learning in art. Autodraw provides a user-friendly and accessible tool for drawing with the added benefit of learning from expert artists on the platform.
Vizcom is an AI-powered product visualization platform that helps designers create high-quality renders and sketches in seconds. Vizcom uses a combination of hand sketching and AI processing tools to create stunning concept drawings that are both realistic and creative. Vizcom's powerful combination of hand sketching and AI processing tools enables designers to create and render faster than ever before. 
Vizcom can save designers a significant amount of time by automatically rendering their sketches into high-quality concept drawings. Vizcom's AI processing tools can help designers improve the accuracy of their concept drawings by automatically adjusting the lighting, shadows, and textures.
It's real-time collaboration feature allows multiple designers to work on the same project at the same time, which can help to improve the quality of the final product. Vizcom allows designers to export their concept drawings in a variety of formats, which makes it easy to share them with clients or colleagues.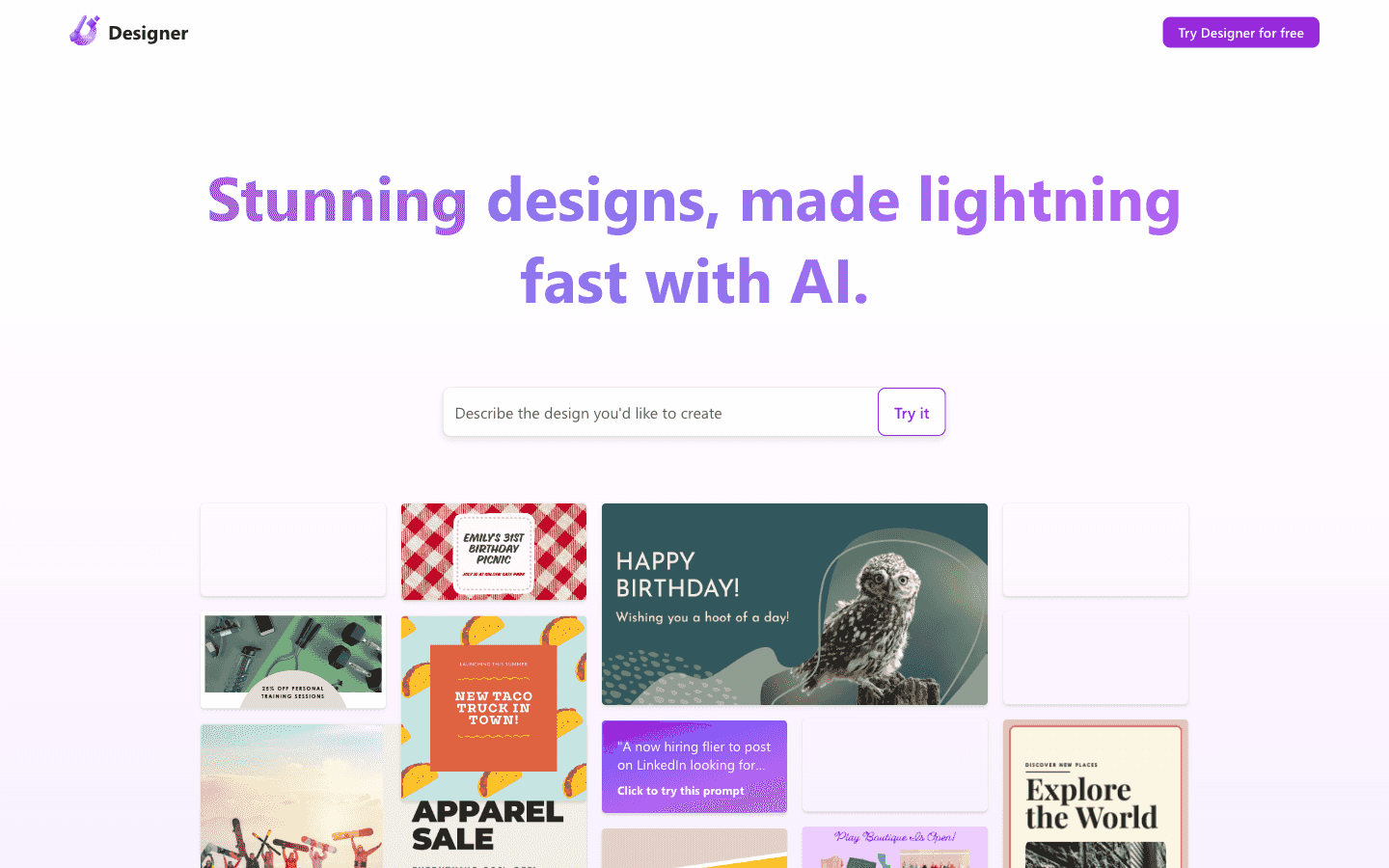 Microsoft Designer provides a variety of tools for editing and customizing your designs, such as text tools, shape tools and image tools. This gives you the flexibility to create designs that meet your specific needs. It supports collaboration, so you can work with others on your designs. This can be helpful for brainstorming ideas, getting feedback, and making changes.
Microsoft Designer is a web-based design tool that helps you create stunning visuals, social media posts, invitations, and more. It uses cutting-edge generative AI technology to assist and empower every person to get started on new ideas, create unique and high-quality graphics in less time, and uplevel content, with or without a background in design.
Microsoft Designer uses AI to suggest colors, fonts, and layouts that are likely to look good together. This can save you time and help you create more polished designs.
It provides a variety of templates for different types of graphics, such as social media posts, presentations, and marketing materials. This can help you get started quickly and easily.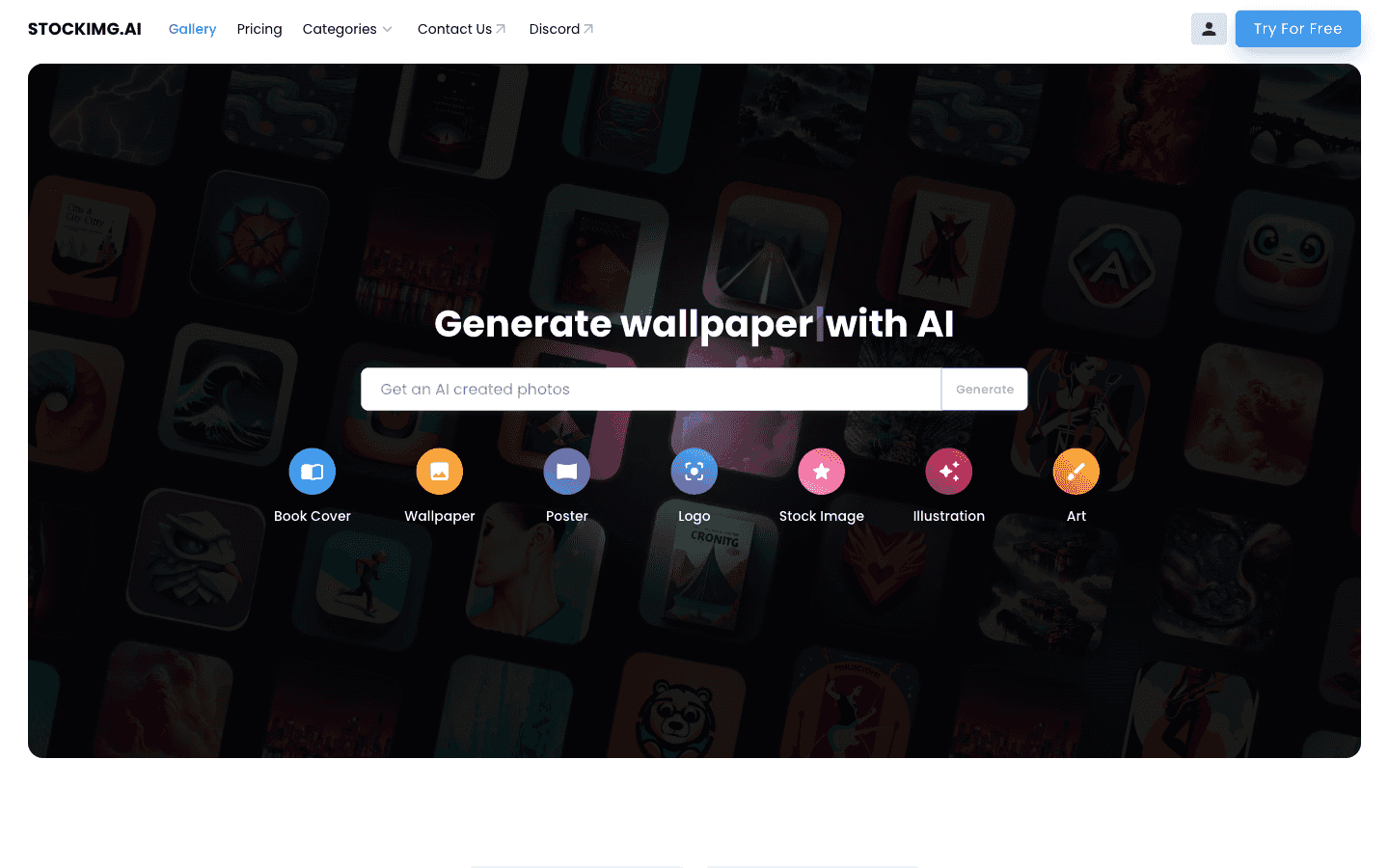 StockImg AI is an AI-powered design tool that simplifies the creation of logos, book covers, posters, and other designs. It offers a wide range of design categories to cater to diverse design needs. With its user-friendly interface, generating images is quick and easy. It also provides a free trial and a section for previewing AI-generated images to explore its capabilities.
StockImg AI is versatile and efficient in creating eye-catching logos for branding and marketing purposes, designing engaging book covers to attract readers, generating visually appealing posters for events or promotions, crafting unique wallpapers, illustrations, and icons for digital and print projects, as well as developing web and mobile UI designs with AI-generated imagery.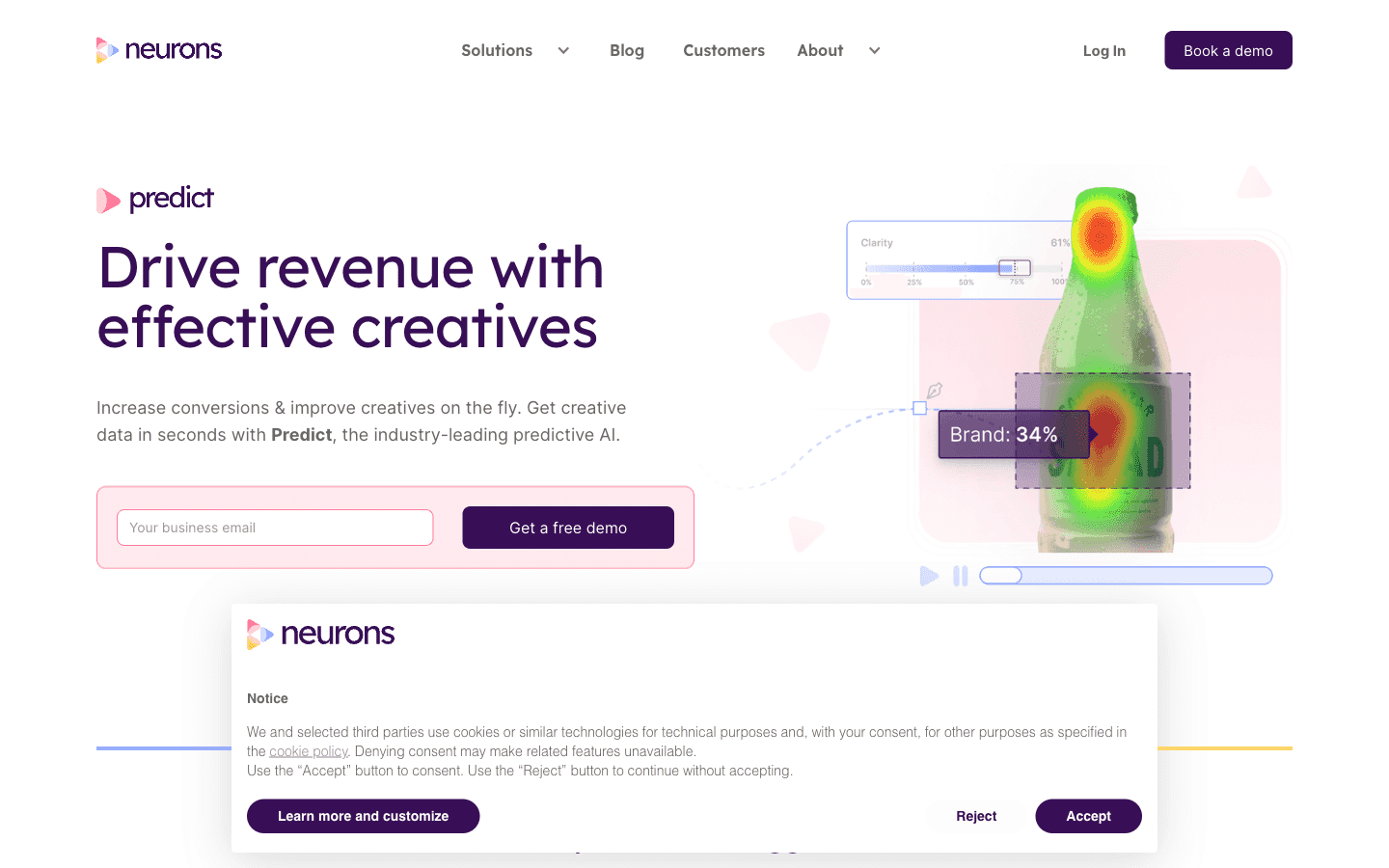 "Predict AI" is a tool designed to help businesses optimize their visual content, such as images and videos, to increase engagement and conversions. It uses AI technology to simulate consumer attention and engagement with the content. With Predict AI, businesses can measure attention and engagement, optimize creatives for maximum performance, and maximize creative impact.
Many major brands trust Predict AI to improve their creative performance and boost brand awareness. The tool provides data-driven insights to help designers maximize creative impact and ensure desired results. It also seamlessly integrates with popular design tools like Figma, Chrome, and Adobe XD. Predict AI is ideal for marketing teams seeking to increase CTR, engagement, and conversions, designers aiming to optimize visuals, and companies looking to pre-test creatives and compare them to industry benchmarks.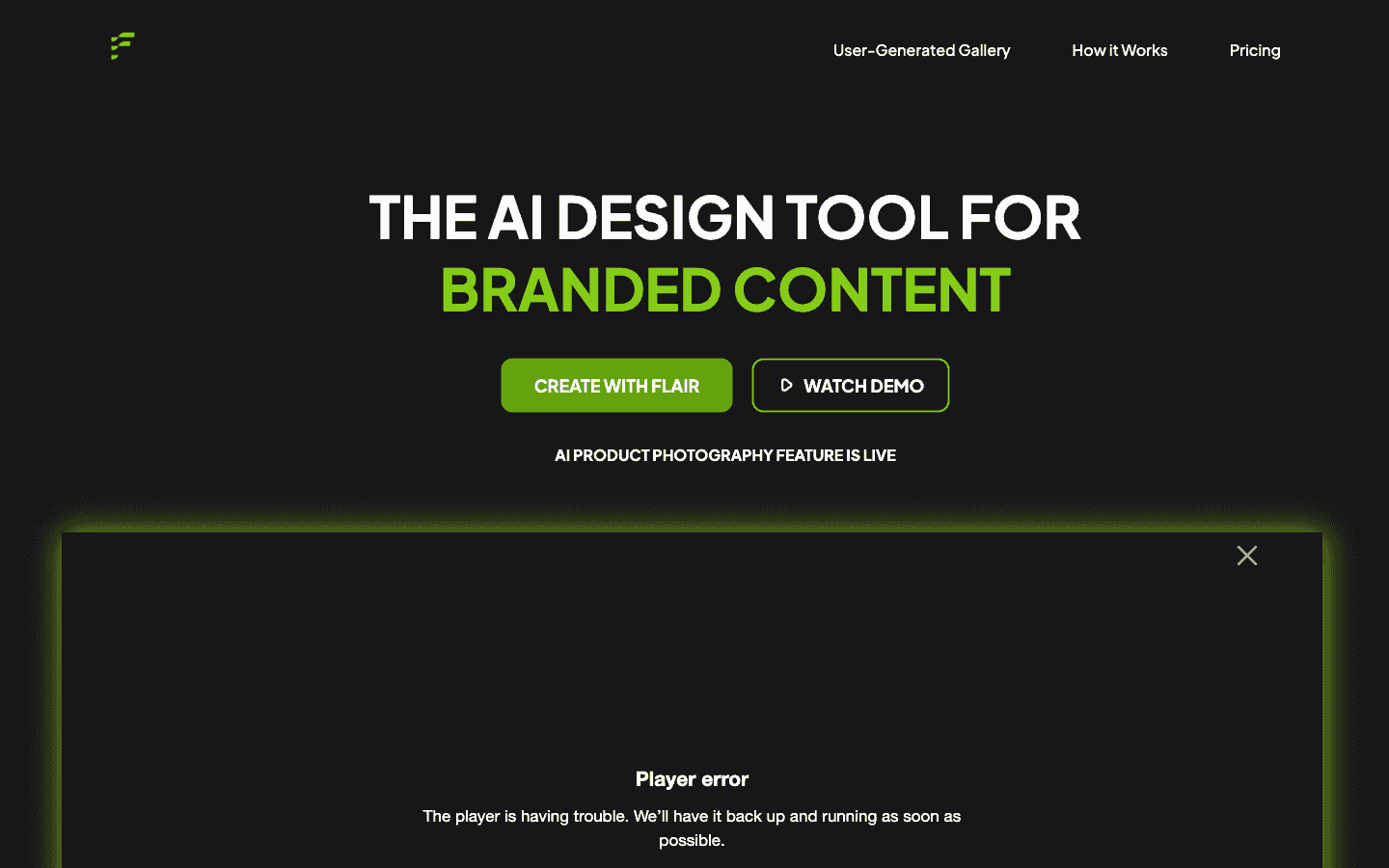 Flair AI is a tool that uses artificial intelligence to help users easily create branded content. It has a drag-and-drop interface that allows users to upload branded assets onto a flexible canvas and build scenes with accessories. Flair AI also features smart prompt recommendations that autocomplete and assist with AI communication. Users can learn how to make the most of the tool with tutorials and examples provided.
Flair AI is ideal for marketers and designers who want to create visually stunning branded content, businesses and entrepreneurs seeking to enhance their brand's visual presence, and content creators looking for a user-friendly design tool with AI assistance. Flair AI is currently in private beta and offers a free trial for users to explore its capabilities.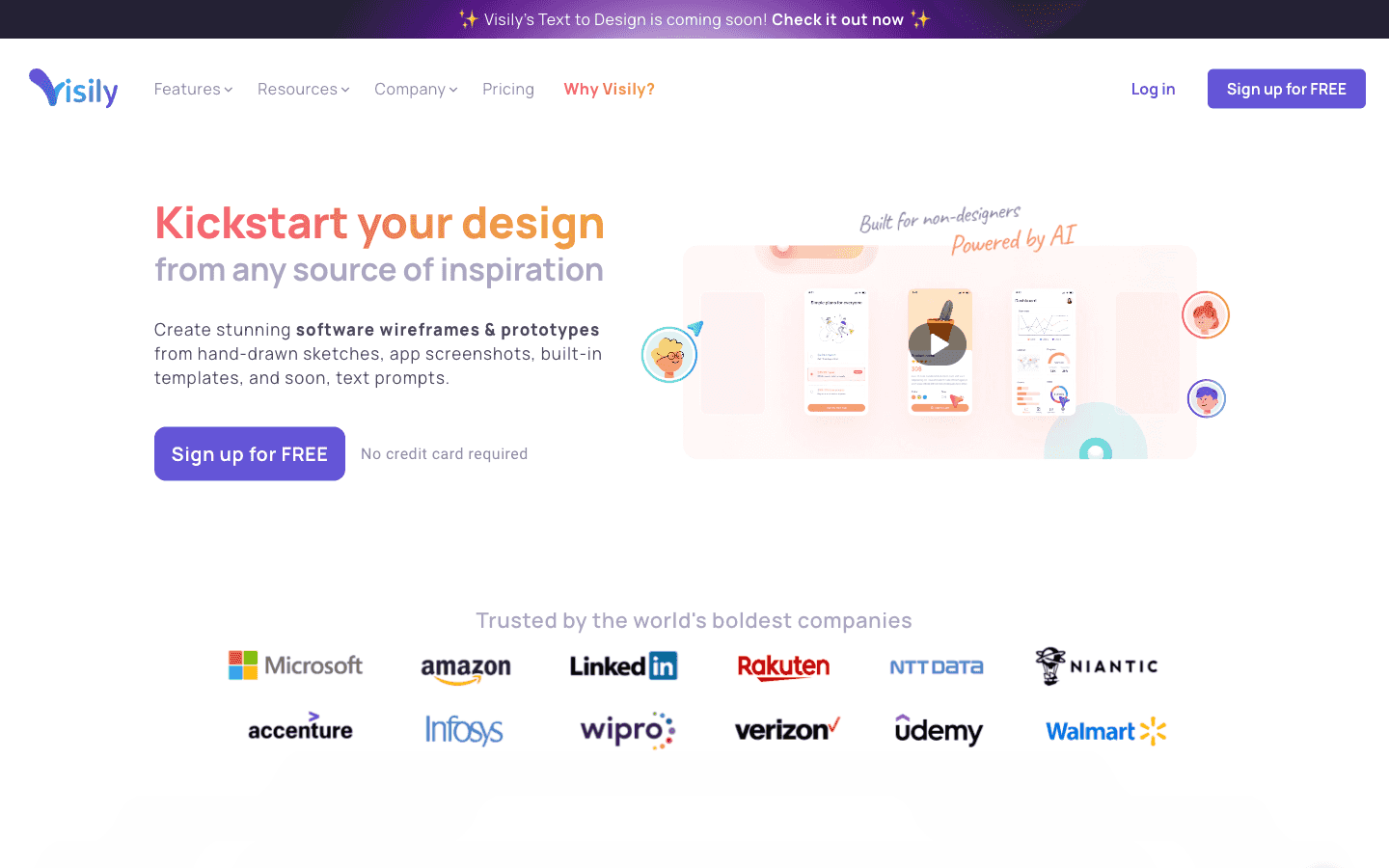 Visily is an AI-powered wireframing tool that helps designers create high-fidelity mockups quickly and easily. Visily's AI can automatically generate wireframes from a variety of sources, including hand-drawn sketches, screenshots, and even text descriptions. This makes it easy for anyone to create professional-looking wireframes, even if they don't have any design experience.
Visily allows you to quickly create wireframes for your website or app. You can use Visily's drag-and-drop interface to create simple wireframes or use its AI-powered tools to create more complex wireframes. 
Visily can generate high-fidelity mockups from your wireframes. These mockups will include realistic colors, fonts, and textures. Visily can help you prototype your website or app and present your designs to your clients or colleagues. Visily's AI assistant can help you with tasks such as finding the right colors, fonts, and textures for your design. This can save you time and help you create a more polished design.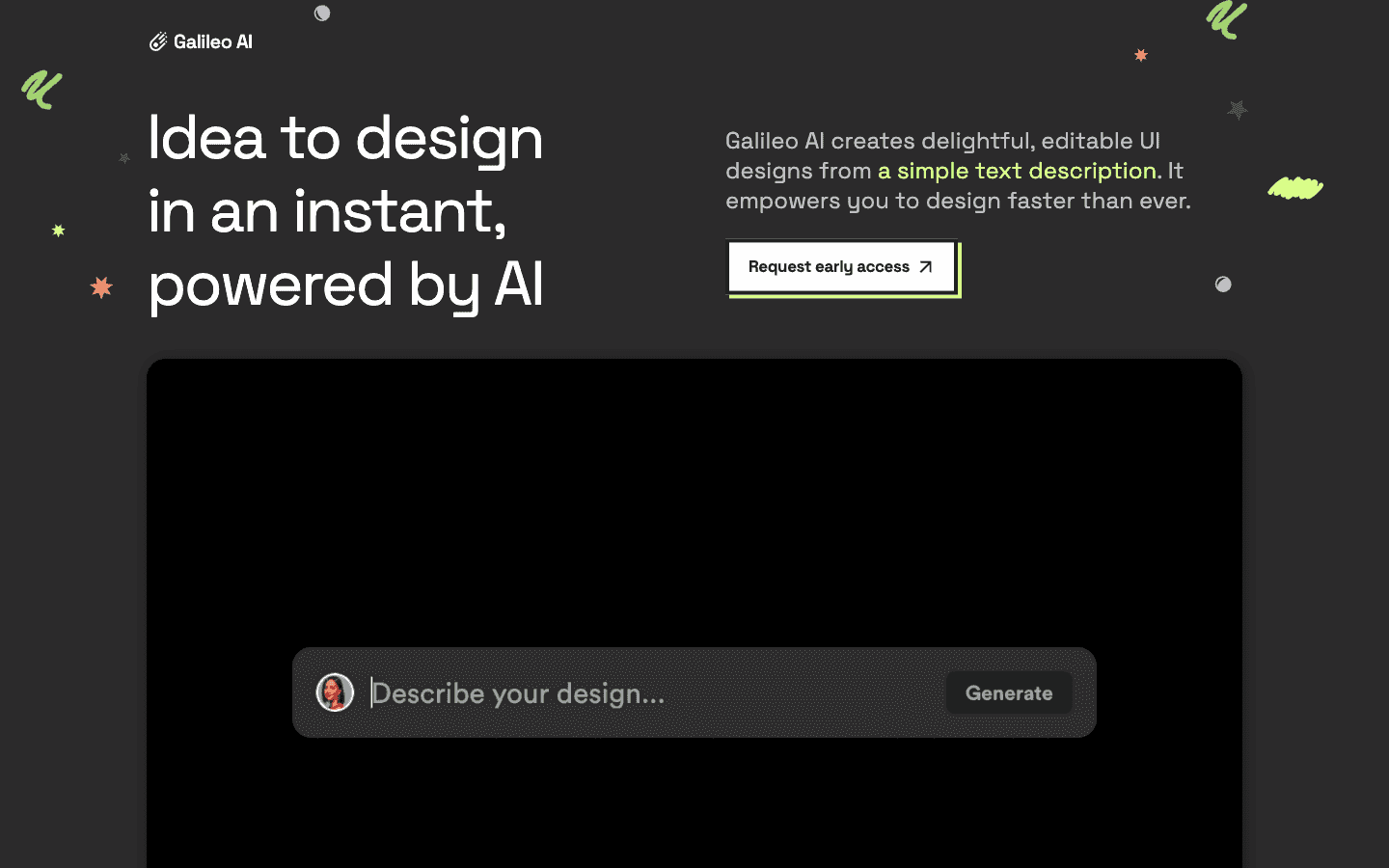 Meet "Galileo" - an AI-powered co-pilot for designers, simplifying interface design. It enables designers to effortlessly create visually appealing UI designs with its key features and benefits. Galileo AI has various use cases that cater to design professionals. It uses natural language prompts to generate high-quality designs from complex user inputs.
It offers AI-generated illustrations that are customized to the desired style, thus saving time and effort. Galileo AI automates repetitive UI patterns and visual tweaks, allowing designers to focus on creative solutions. It is an ideal solution for UI designers, product developers, and creative teams looking to streamline their design process and create stunning UI designs.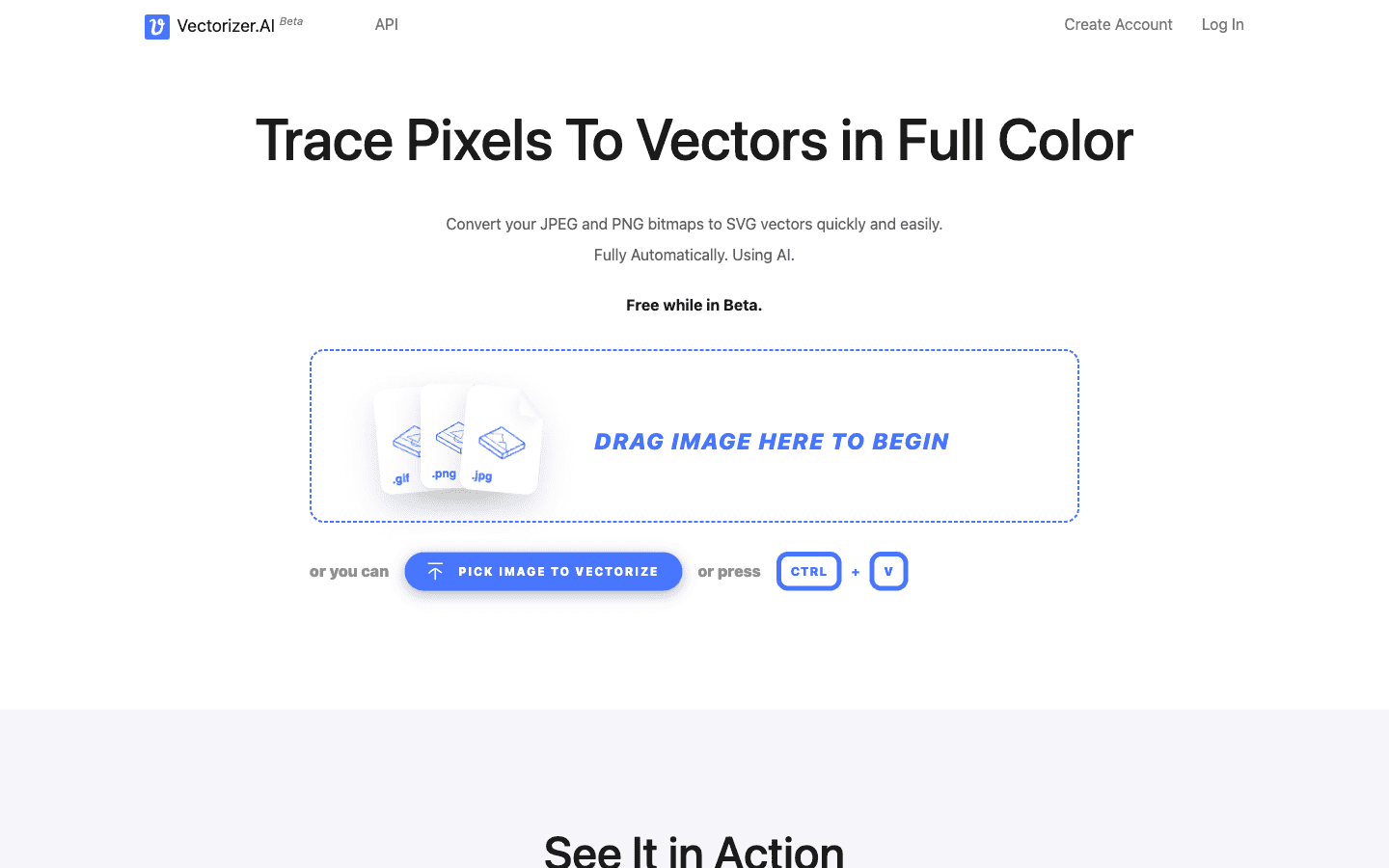 Vectorizer.ai is a website that uses artificial intelligence (AI) to convert bitmap images to vector images. Vector images are made up of shapes and curves, rather than pixels, which means they can be scaled to any size without losing quality. This makes them ideal for use in print, web design, and other applications where high-quality images are required.
Vectorizer.ai is easy to use. Simply upload your bitmap image to the website, and Vectorizer.ai will automatically convert it to a vector image. You can then download the vector image in a variety of formats, including SVG, EPS, and AI.
Vectorizer.ai is a great option for anyone who needs to convert bitmap images to vector images. It is easy to use, affordable, and produces high-quality results.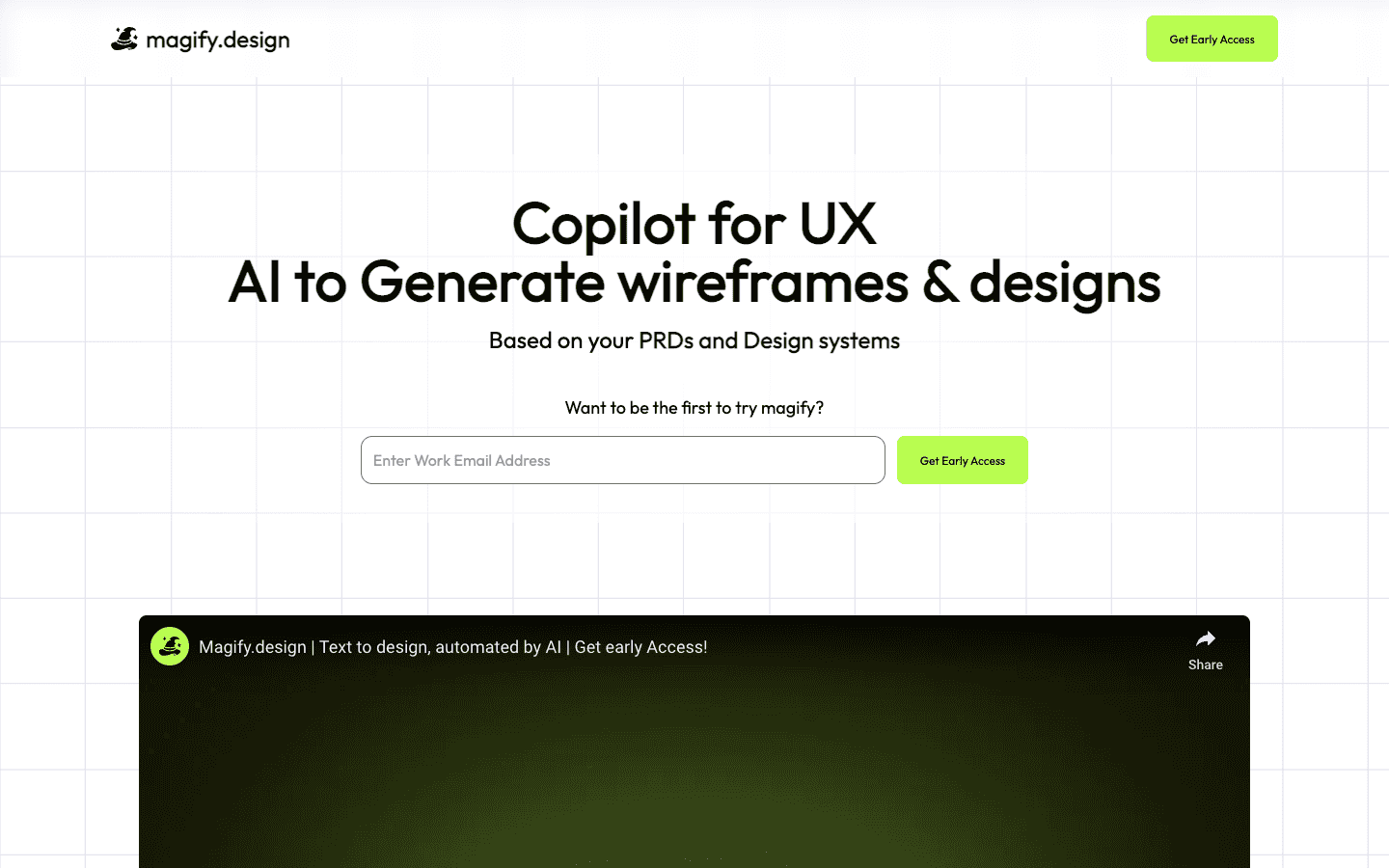 Magify.design is an AI tool that helps designers create and modify designs based on a design system. It offers prompts for customization, allowing designers to edit both the design and the design system. With automated asset generation and code, Magify.design streamlines collaboration between designers and developers.
It provides consistent designs adhering to the chosen design system, keeping the quality of designs high. Magify.design is perfect for designers who want to improve their workflow by reducing manual tasks. It simplifies the process of creating image assets, UX writing, and codes, making the designer-developer handoff seamless.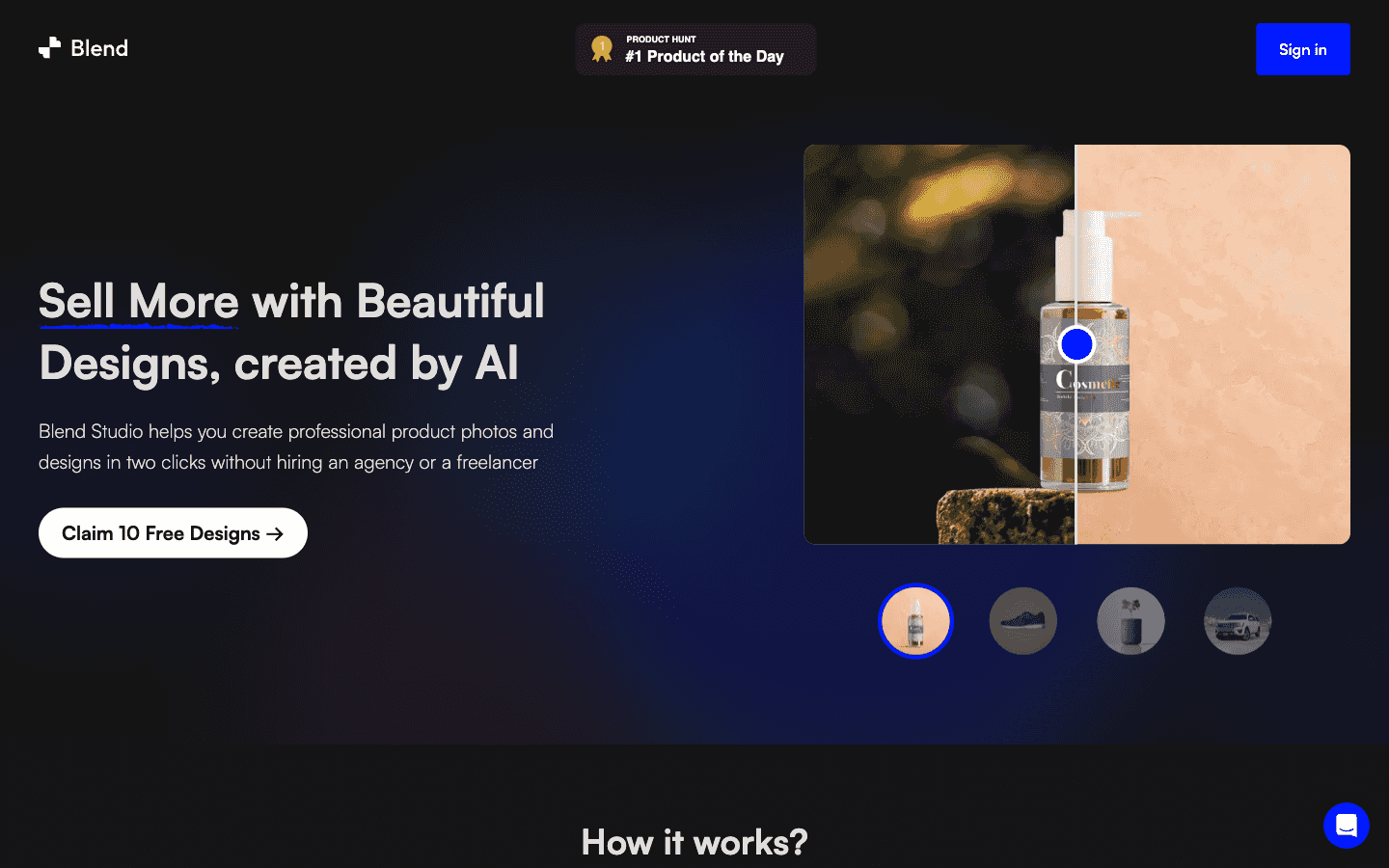 Blend is an AI-powered tool that can remove the background from images and videos in seconds. It is a great option for anyone who needs to remove backgrounds from images and videos for a variety of purposes, such as social media posts, marketing materials, and product listings.
It is a powerful AI-based tool that helps you create high-quality product photos and designs quickly and effortlessly. It provides a variety of features and benefits, including the ability to generate images with realistic shadows and lighting based on user descriptions, access to AI-powered background removal and text-to-image generator, and pre-designed templates for common use cases such as DTC brands, car dealerships, and influencers. It is especially helpful for small businesses and online sellers who need professional-looking visuals but can't afford to hire an agency or freelancer. Direct-to-consumer brands and influencers can use it to improve their conversion rates and sales with high-quality product images.
Also read: 10 Best AI Image Generator tools in 2023