What are AI Photo Editing tools?
AI Photo Editors are software applications that use artificial intelligence algorithms to edit and enhance digital images. These tools can automatically adjust various elements of an image, such as brightness, contrast, color balance, and sharpness, to produce a visually appealing result. They can also remove unwanted elements from an image or add new ones, such as text, logos, or graphics. Some AI Image Editing tools can even create entirely new images from scratch based on user input or preset templates.
AI Image Editing tools can be useful for a variety of purposes, including professional photography, graphic design, social media marketing, and personal photo editing. They can save time and effort by automating repetitive tasks and producing high-quality results with minimal user input. 
What are the benefits of AI Photo Editors?
AI Photo Editing tools can bring numerous benefits to photographers, graphic designers, marketers, and anyone else who works with digital images. Here are some of the benefits of using AI Image Editing tools:
1. Time-saving: AI Image Editing tools can automate repetitive tasks such as resizing, cropping, and color correction, saving you a lot of time and effort. This means that you can focus on more creative tasks such as retouching and enhancing your images.
2. Consistency: AI Image Editing tools can ensure consistency in your images by applying the same edits across multiple images. This is particularly useful when you are working on a large project that requires a uniform look and feel.
3. Accuracy: AI Image Editing tools use advanced algorithms to analyze images and make precise adjustments to brightness, contrast, sharpness, and color. This can help you achieve a more accurate and realistic representation of the subject matter.
Let's dive into the world of AI photo editing and explore the best AI tools in 2023.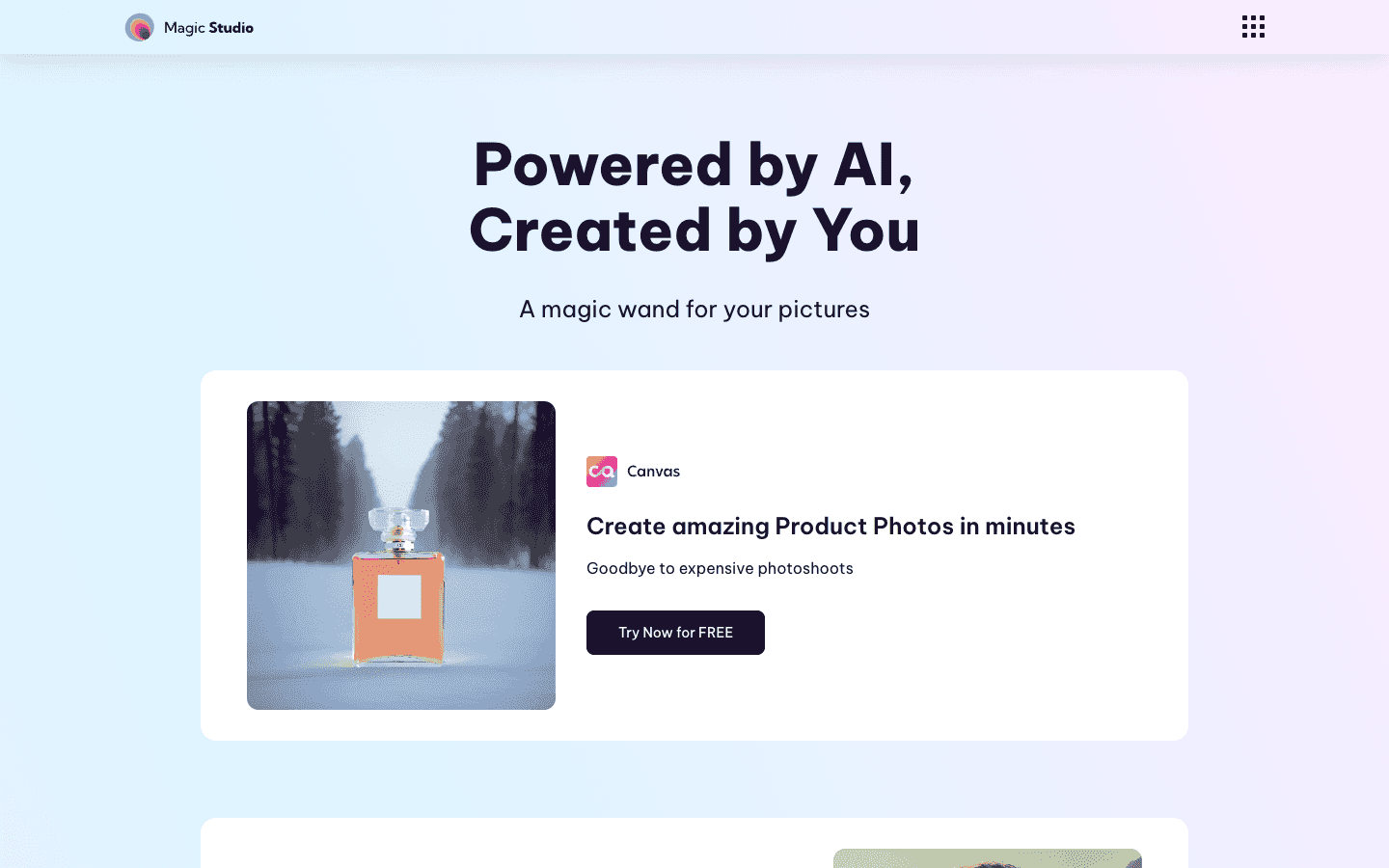 "Magic Studio" is an AI tool that can remove unwanted elements from images in just a few seconds, making your pictures look more professional. It's a user-friendly tool that requires just three simple steps: upload your image, mark the area you want to remove, and download the new and improved version. It's perfect for anyone who wants to enhance their photos, from real estate photographers to social media managers.
The tool supports a variety of image formats, including JPEG and PNG. Magic Studio has an API that allows you to add its features to your own applications. Best of all, it's free to use and offers a range of pricing plans for additional features.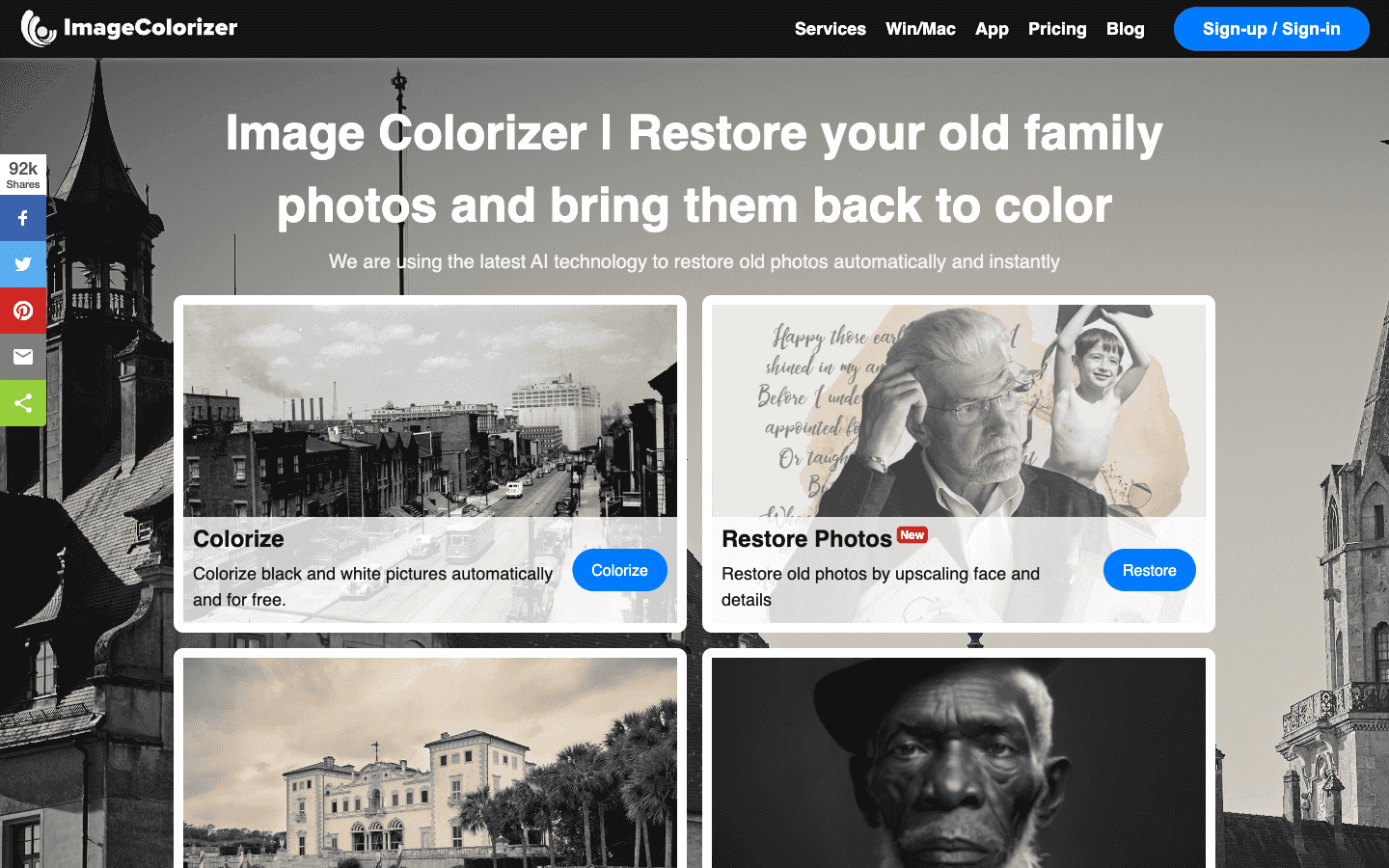 Imagecolorizer is a cloud-based editing and graphic design tool that uses AI technology to restore and enhance old photos. It has four key features, which are colorizing black and white photos, unblurring old photos, repairing damaged photos, and enhancing antique photos. The tool is available on various platforms, including Win/Mac, iOS/Android apps, and online services.
People who are into photography and want to restore and enhance old photos can use this tool. Historians and archivists can also use it to bring new life to historical images. Genealogists and family historians can use Imagecolorizer to improve the quality of old family photos. Overall, Imagecolorizer is a powerful tool for revitalizing old photos using AI technology.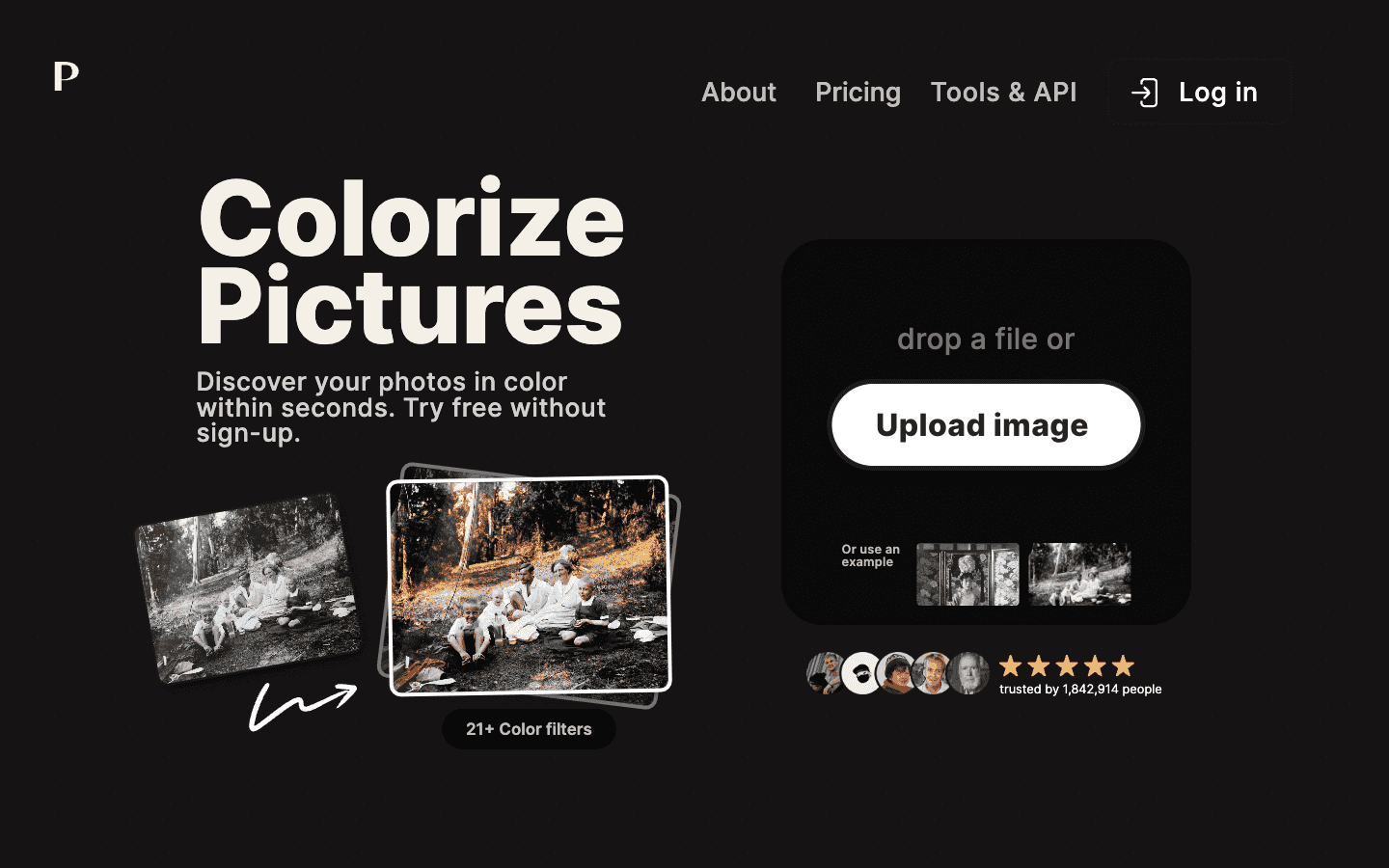 Palette.fm is an AI tool that adds color to images, ranging from old black and white photos to modern pictures. It is user-friendly, with an easy to use interface that requires no sign-up. The tool automatically processes the images, ensuring user privacy by not storing any personal data. Palette.fm comes with a supportive community of over one million users and a 3-minute tutorial. It is also free and accessible. T
he tool's use cases cater to various individuals, including photography enthusiasts who want to add color to old black and white images, content creators who want to enhance their visuals with AI-powered colorization, and artists and designers who want to explore new ways to add color to their work.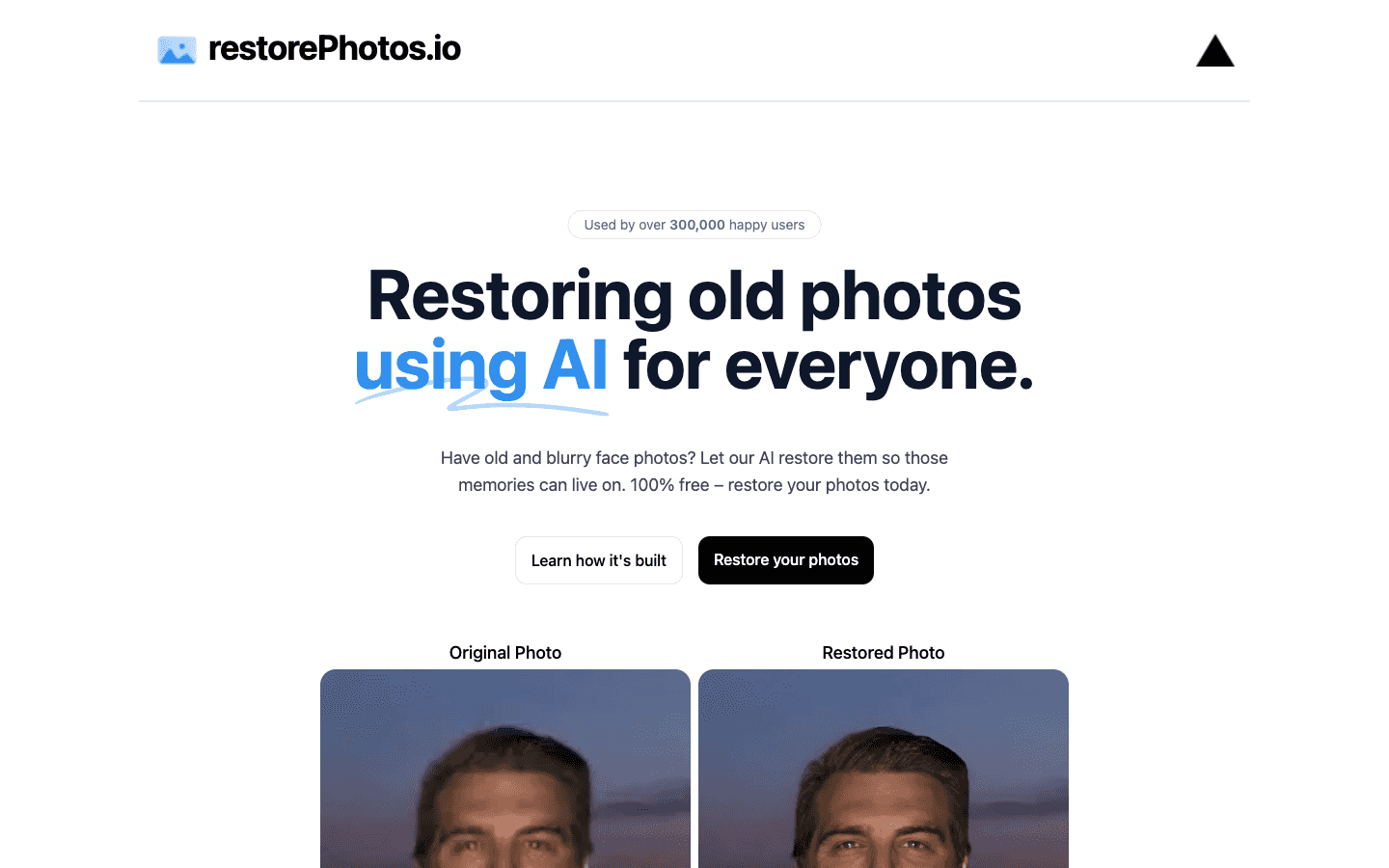 "RestorePhotos" is an AI tool that can restore old and blurry face photos. It uses Replicate and Vercel to enhance photo clarity and sharpness. The tool is easy to use and requires just a few clicks to restore photos. It's also open-source, which means users can access the source code and deployment options on Vercel.
The tool caters to various individuals, including photography enthusiasts who want to preserve and enhance old memories, genealogy researchers aiming to improve the quality of historical family photos, and developers interested in exploring and deploying open-source photo restoration tools. Overall, "RestorePhotos" is an invaluable solution for bringing old photos back to life and preserving memories.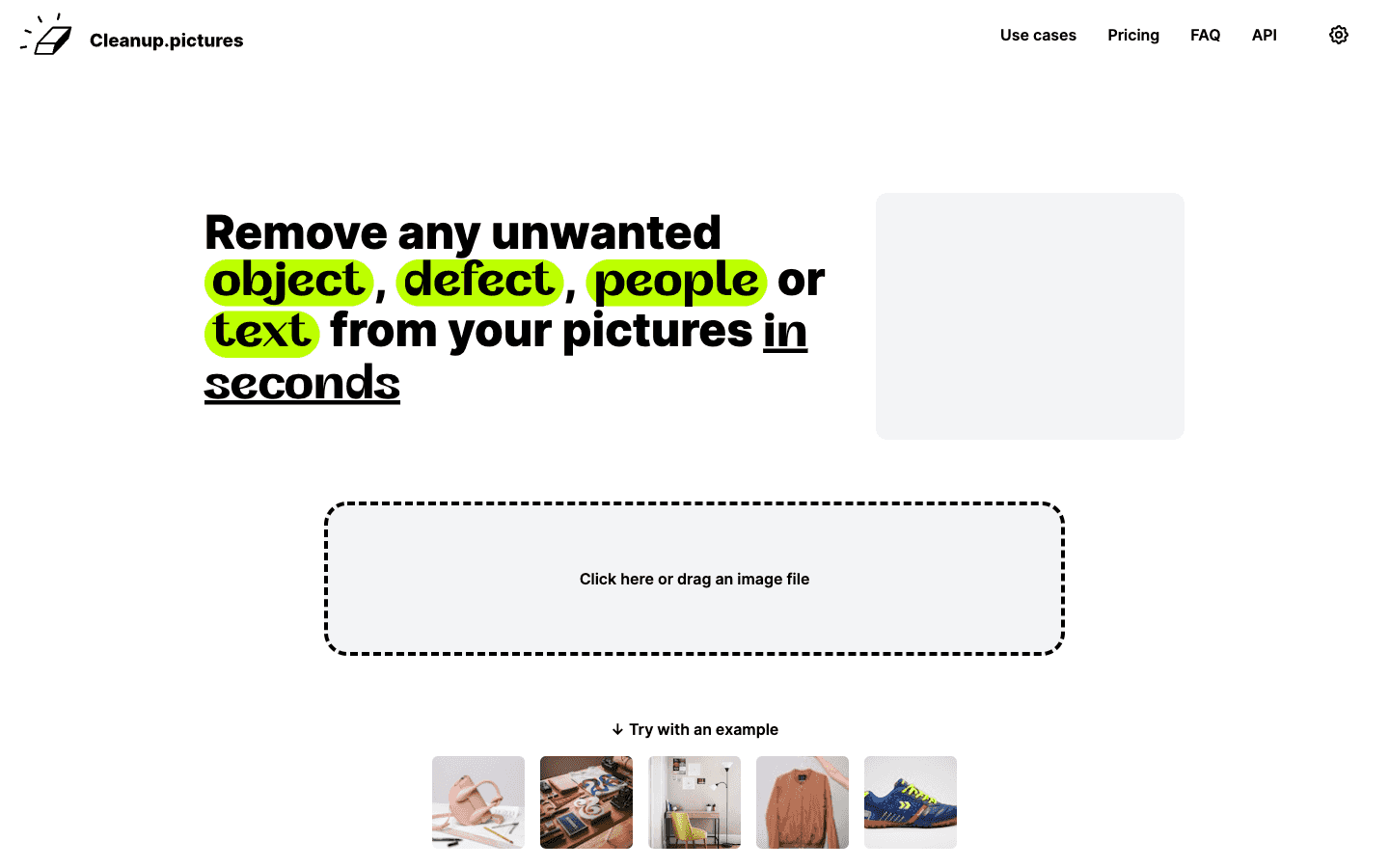 Cleanup.pictures is an AI-based image editing tool that can remove unwanted objects, texts, defects, and people from images. It offers a quick and easy solution for image editing with incredible quality. It is suitable for various industries such as photography, creative agencies, real estate, and e-commerce.
Cleanup.pictures is AI-powered, which means it delivers better results than traditional clone tools. It is available in both free and Pro versions. The Pro version offers unlimited image size processing. Cleanup.pictures is accessible via iOS, Android, and API for various environments. Photographers can enhance portrait photos and remove timestamps or tourists from holiday pictures.
Creatives can create stunning visuals and perfect profile pictures. Real estate agents can depersonalize and clean property photos for marketing purposes. E-commerce businesses can improve product shots and update social media with eye-catching visuals.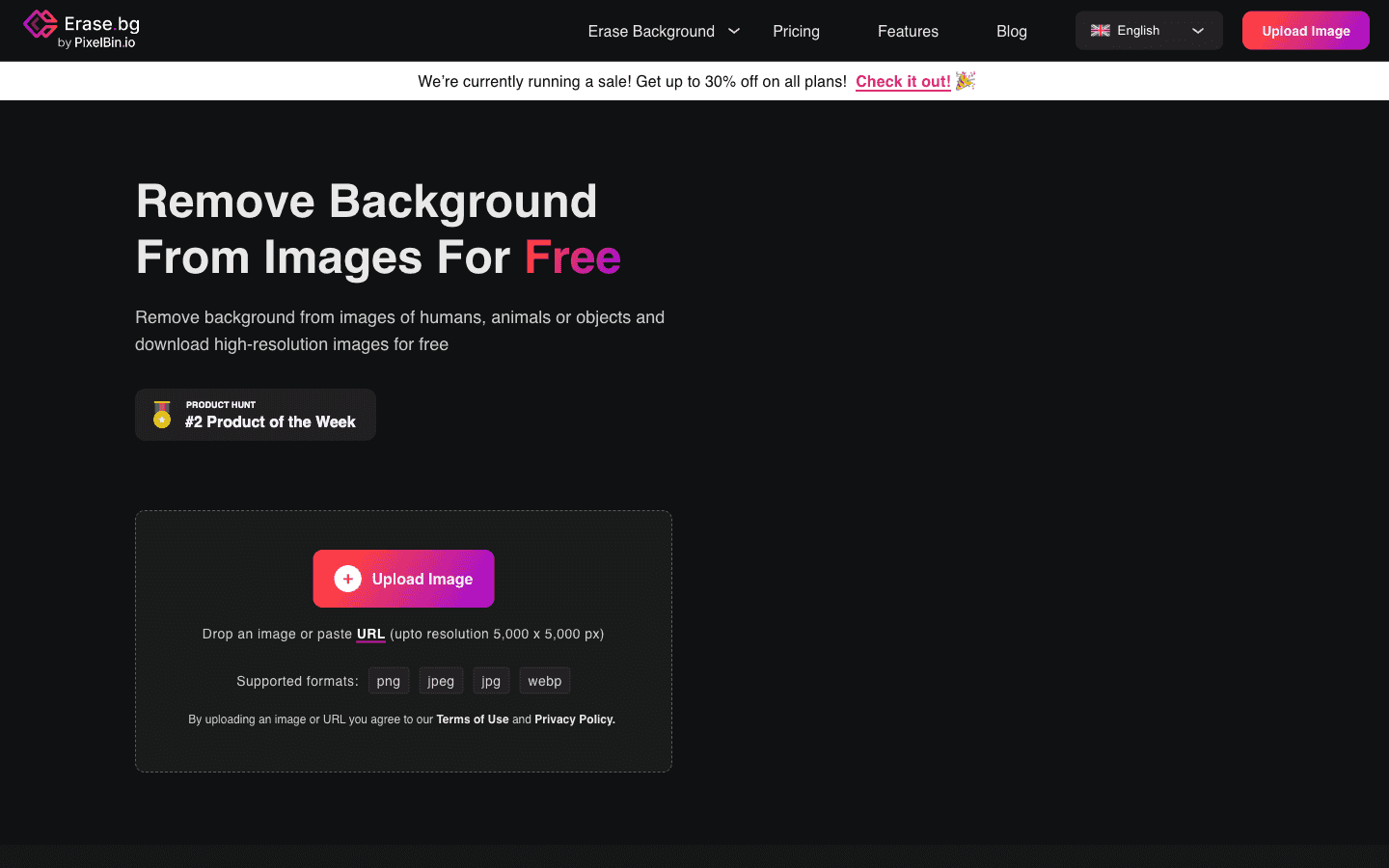 Erase.bg is a free, AI-powered tool that removes backgrounds from images of people, animals, or objects. It's easy-to-use and ideal for individual users, photographers, developers, e-commerce businesses, and enterprise customers.
Erase.bg offers versatile use cases such as creating custom WhatsApp display pictures with gradients and patterns, removing backgrounds from logos and signatures for online documents, and enhancing social media and website content with stunning visuals. With Erase.bg, you can process thousands of high-quality images quickly, and it's available for both Android and iOS devices.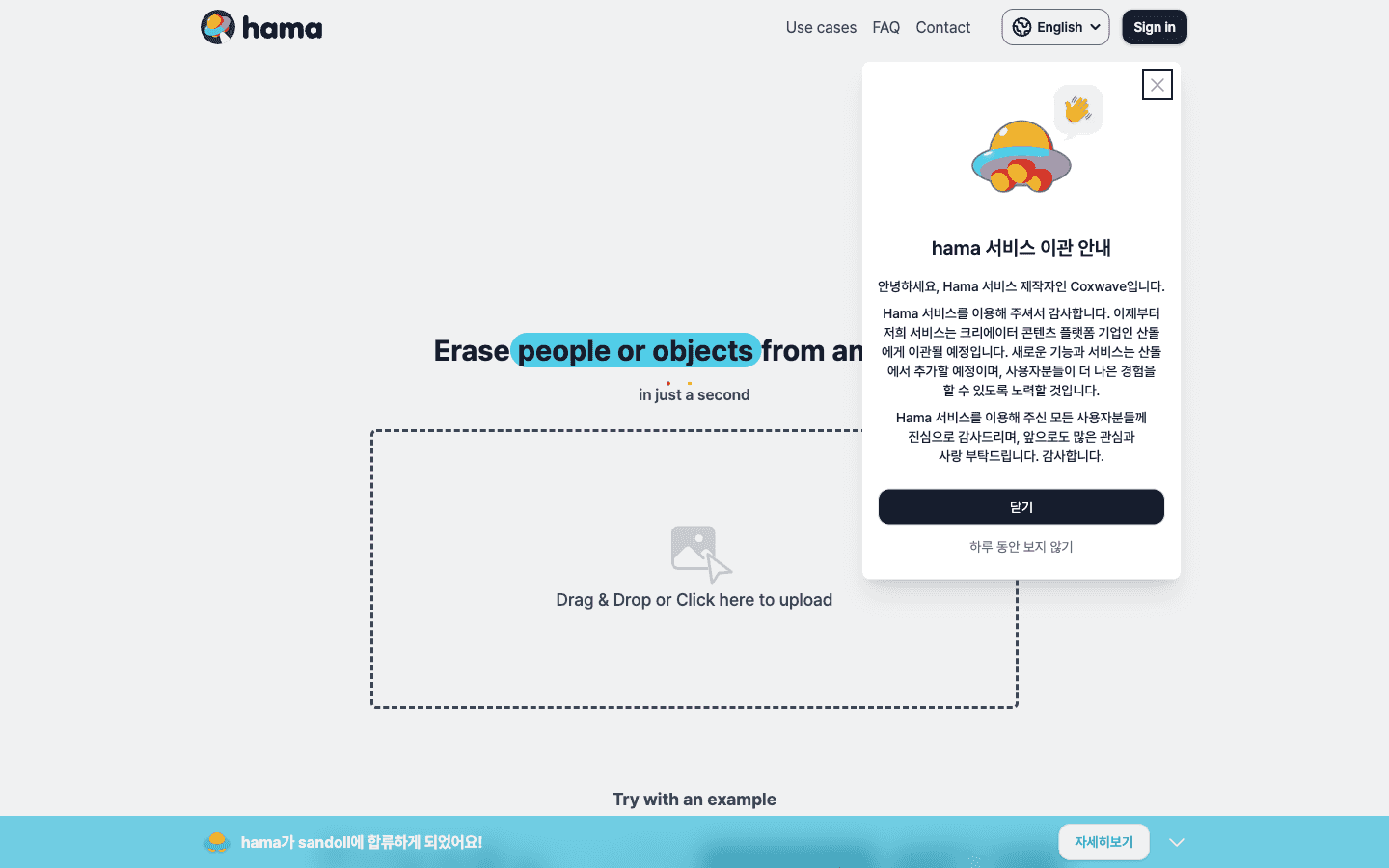 Hama - Image Editing is an AI-powered web application that helps you easily remove unwanted objects from your photos. Its intuitive interface allows you to upload images with a simple drag and drop or click. You can preview how your photos will look after object erasing and enjoy its free and unlimited feature without any size limits or restrictions.
Photographers, social media users, and graphic designers can benefit from Hama's quick and easy object erasing solution. This tool offers a user-friendly application for effortlessly editing your photos, making it an ideal choice for anyone looking to enhance and clean up their images.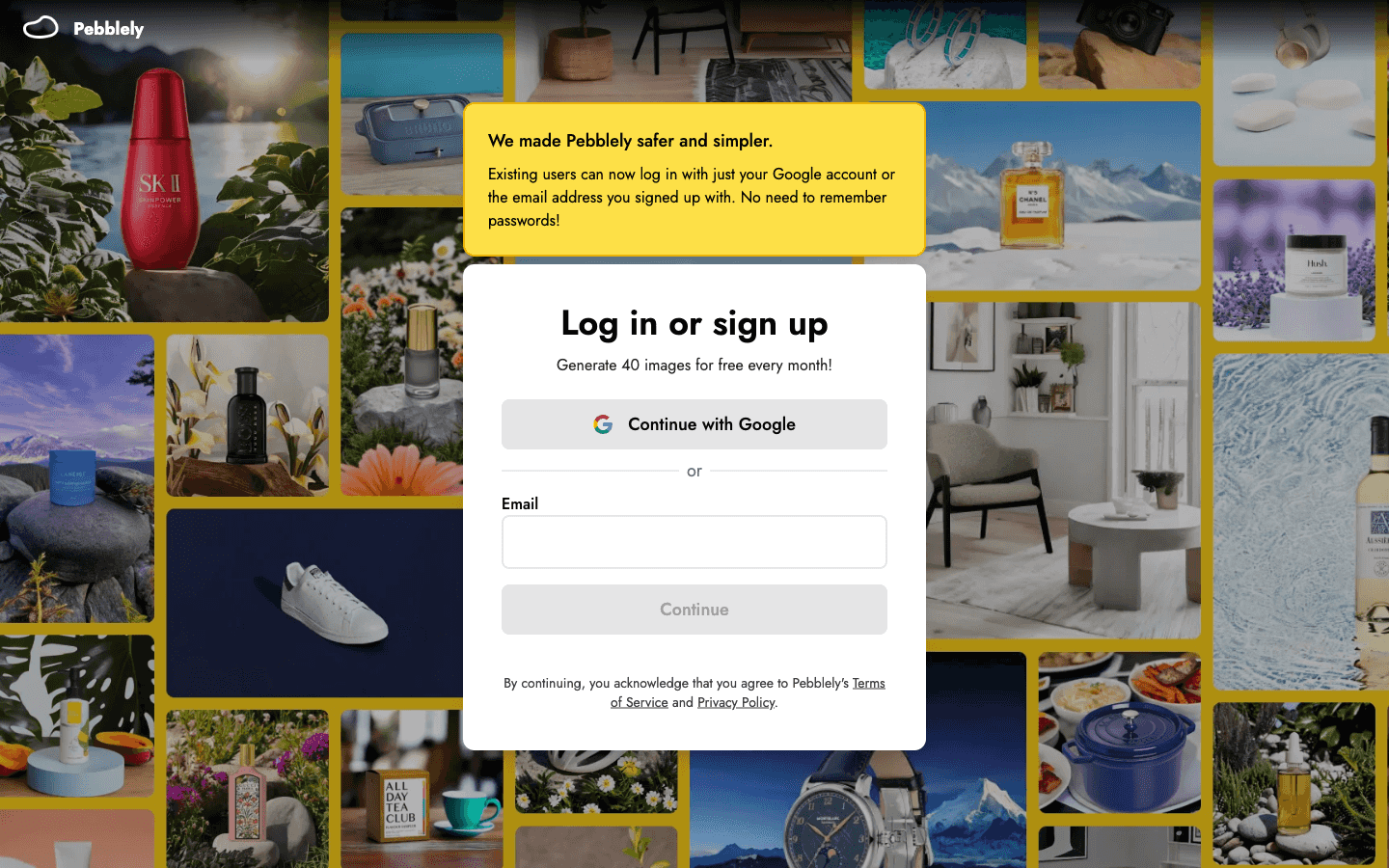 Pebblely is an AI-powered platform that can assist users in discovering the ideal images for their projects. With Pebblely, users can browse through a comprehensive library of high-quality images that have been carefully chosen by a team of experts. The platform also features an automated search tool that allows users to quickly find images that match their criteria.
The personalized dashboard provides users with insights into their searches, making image discovery easier. Pebblely is ideal for designers looking for high-quality images, content creators seeking to enhance their visual appeal, and marketing professionals searching for the perfect images for their campaigns and promotions.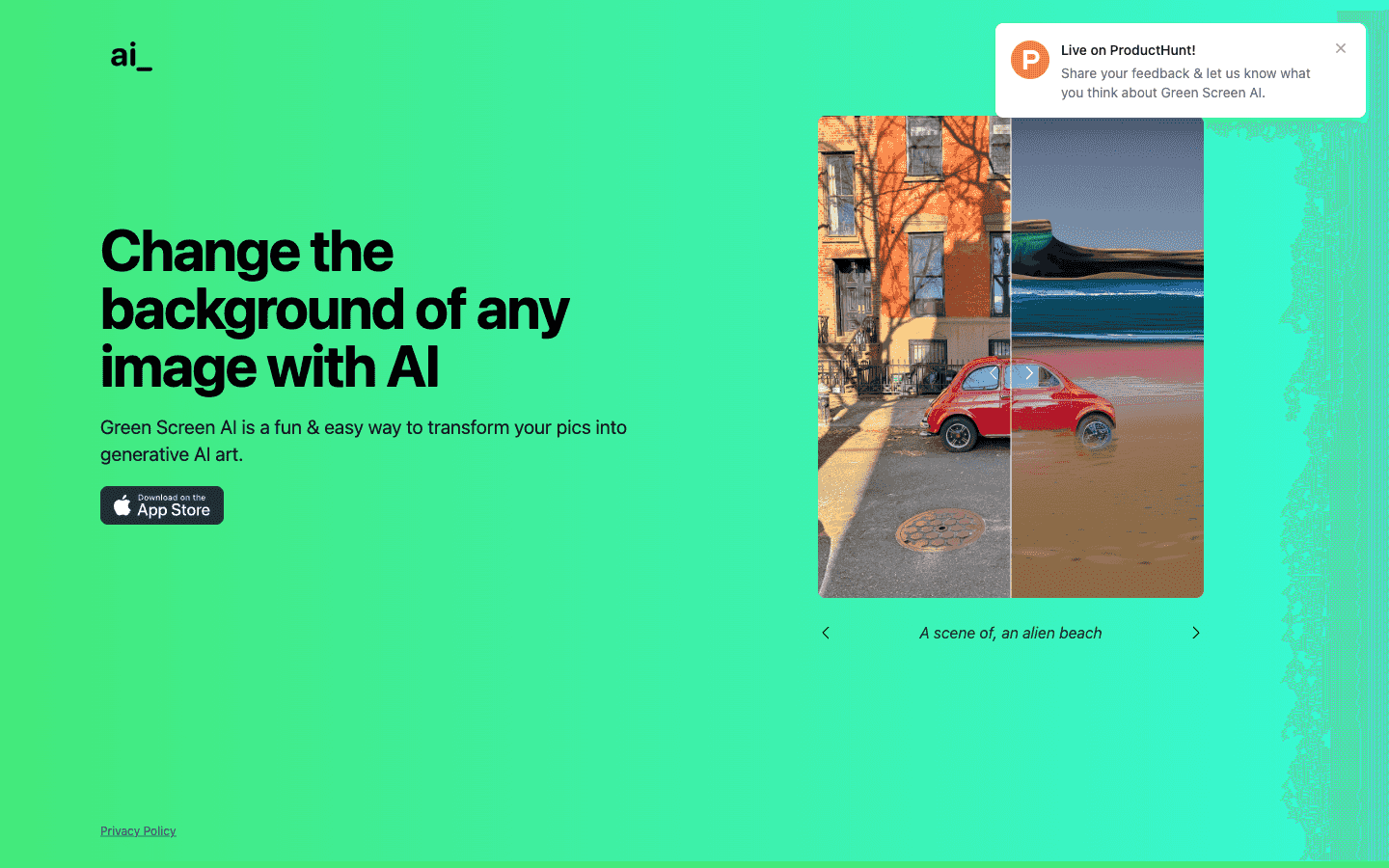 Green Screen AI is a creative tool that uses AI-generated art to change image backgrounds. With this tool, you can easily replace image backgrounds with unique and fun AI-created scenes. It's user-friendly, allowing for a fun and creative experience. Plus, it generates AI artwork that can be shared with friends on social media.
The app also provides a platform for users to share their thoughts and feedback. The privacy policy ensures that user data is protected. This tool is ideal for social media enthusiasts looking to create unique and engaging content, artists and designers exploring AI-generated art for inspiration or collaboration, and casual users seeking a fun and creative tool to enhance their images.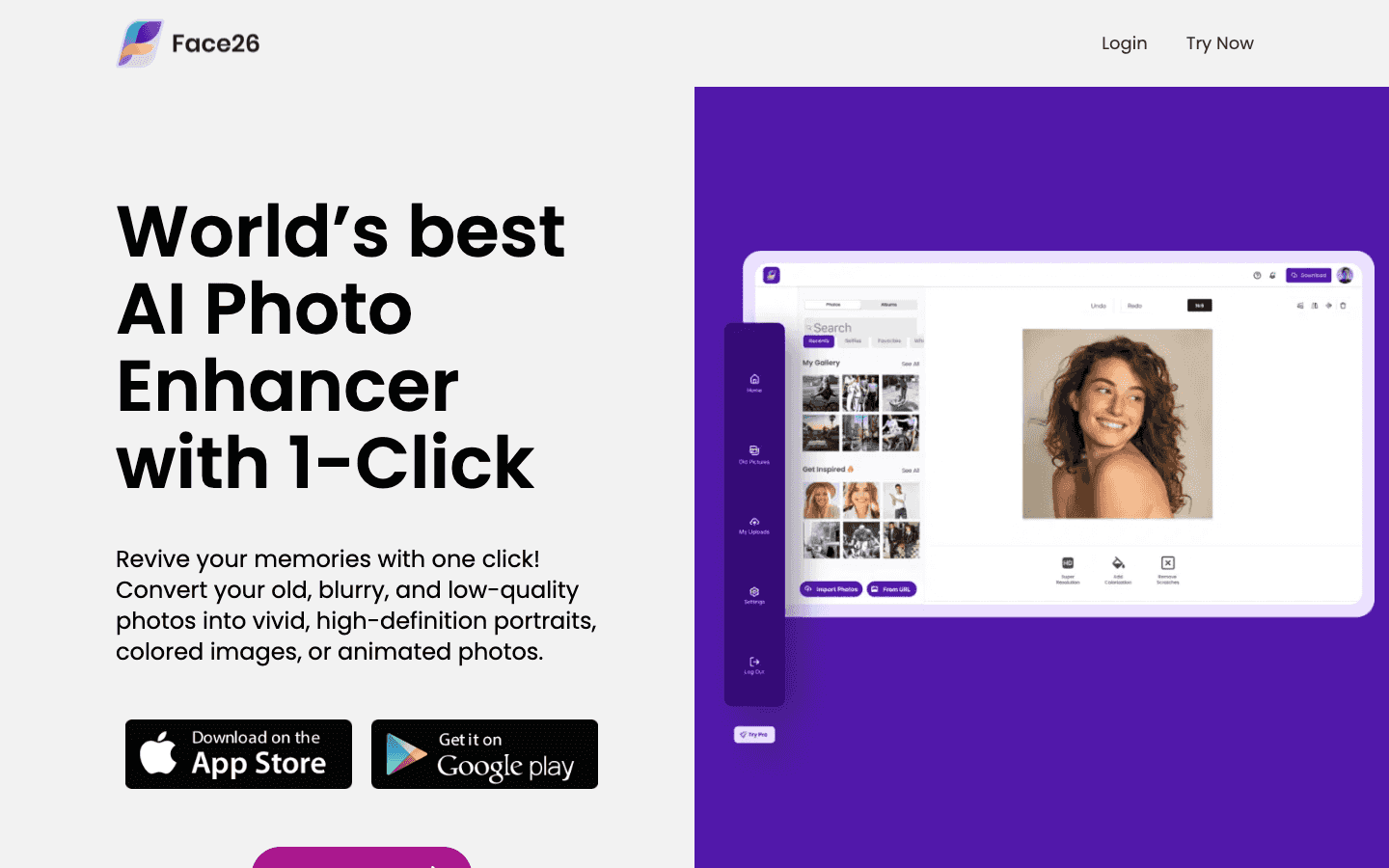 Looking for an AI tool that can enhance your photos without requiring any editing skills? Look no further than "Face26"! This powerful tool can transform your images into stunning HD portraits or vibrant color photos in just seconds.
With an AI-powered algorithm trained on over 2 million high-resolution images, Face26 can increase the resolution of your photos, denoise them, and even retouch them. It's perfect for sharpening the faces in old family photos or turning black and white images from the 80s into vivid color photos. You can use Face26 directly on your desktop or smartphone, with a web browser application that makes it easy and convenient to use. Plus, your data is always encrypted for added privacy and security.
Also read: 9 Best AI Audio Editing tools in 2023