What are AI Story Generator tools?
AI Story Generator tools are AI-powered platforms that enable users to create and share compelling stories. These tools use natural language processing and machine learning algorithms to analyze and generate engaging narratives that captivate the audience.
They can be used for a variety of purposes, such as marketing campaigns, educational content, and even entertainment. AI Story Teller tools provide users with a diverse range of templates, themes, and customization options to make the storytelling process more interactive and visually appealing.
With these tools, users can create stories that are informative, persuasive, and emotionally resonant, making them an effective way to engage with audiences and build brand awareness.
What are the benefits of AI Story Generator tools?
AI Story Teller tools are a type of AI tool that can help individuals and businesses create compelling and engaging stories. Here are some of the benefits of using AI Story teller or generator tools:
1. Saves time and effort: With AI Story Teller tools, you can create stories quickly and effortlessly. These tools can generate story ideas, suggest plot twists, and even create dialogue, saving you time and effort.
2. Improves storytelling skills: AI Story Teller tools can analyze your writing style and provide feedback on how to improve your storytelling skills. This feedback can help you become a better writer and storyteller.
3. Increases productivity: AI Story Teller tools can help you write more efficiently. You can use these tools to generate story ideas, create outlines, and even write entire chapters. This can help you increase your productivity and get more done in less time.
Let's explore some of the best AI story generators that are quite popular right now: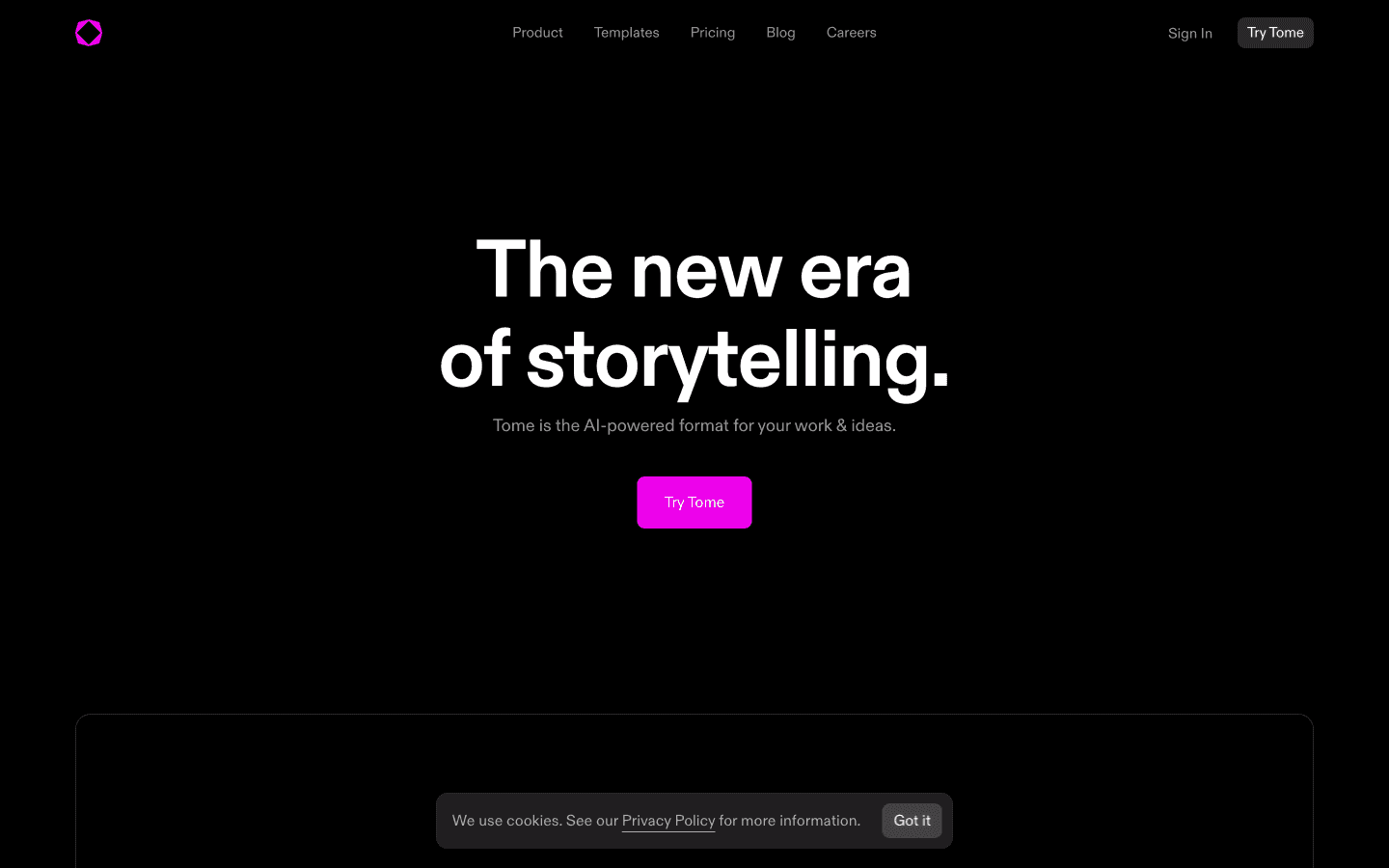 Tome is an AI-powered storytelling platform that allows users to create interactive and immersive narratives. It uses a variety of AI technologies, to help users bring their ideas to life in seconds. Tome offers a unique generative storytelling format, which allows users to create stories using video, images, and text. The platform also provides intelligent titles and layouts to automatically generate content, which can be further customized by the user.
Tome uses AI to help users create immersive narratives. This means that users can easily add images, videos, and text to their stories, and Tome will automatically generate content to fill in the gaps. 
Tome's interactive canvas allows users to create stories that look great on any device. Users can easily zoom in and out of their stories, and they can also add interactive elements such as buttons and links.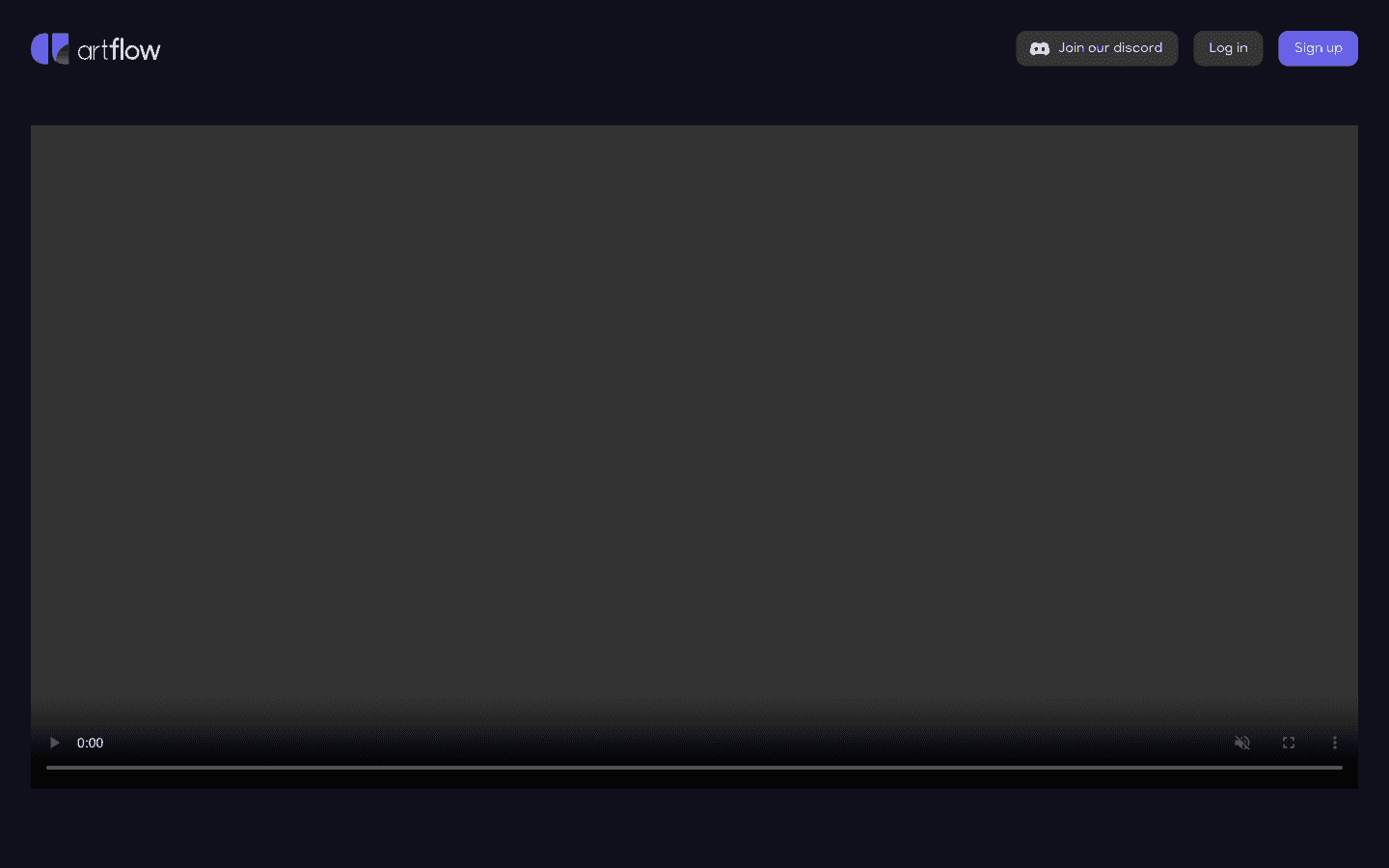 Looking for an AI-powered tool to create custom avatars and bring your stories to life? Meet Artflow.ai! This tool helps users generate characters, scenes, and voices from text and write unique dialogues. With access to millions of user-generated assets, such as premade characters and scenes, you can easily create your own custom creations. Artflow.ai also supports non-English descriptions for diverse creations.
Plus, you can use an API for content generation and receive real-time feedback on your creations. Connect with others through a Discord community, tutorials, and FAQs. This tool is perfect for writers and storytellers seeking to visualize their characters and scenes, designers looking for an AI-powered tool, and content creators aiming to generate unique assets for their projects.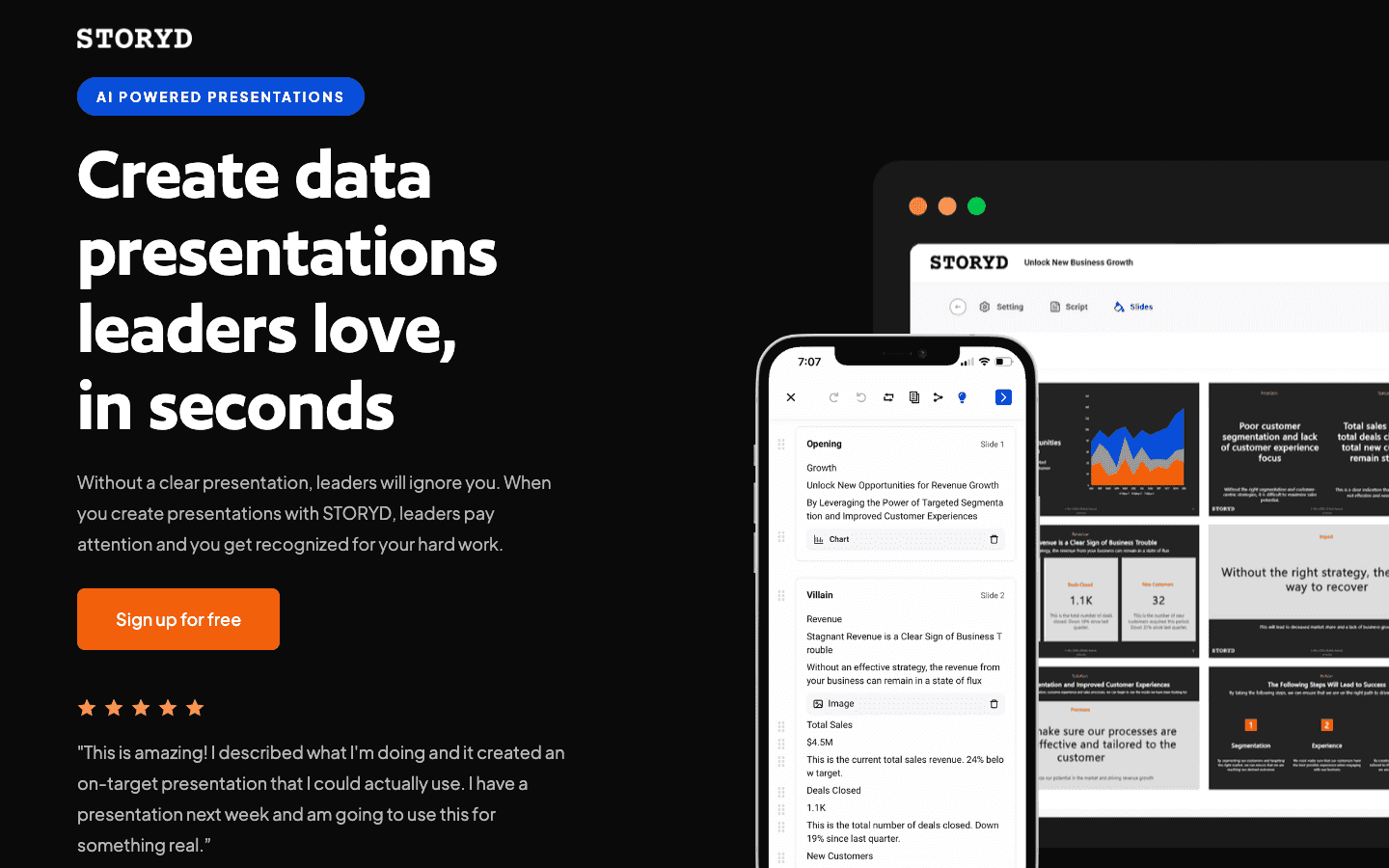 STORYD is a data presentation platform that uses AI to help users create engaging and persuasive presentations. STORYD has a library of over 500 pre-written story starters that users can use to get started on their presentations. These starters cover a variety of industries and topics, so users can find one that is relevant to their needs.
STORYD's AI script generator can help users create a script for their presentation. The generator takes the user's story starter and generates a script that includes titles, text and descriptions. Users can then edit the script to fit their specific needs.
STORYD's professional slide designer can help users create visually appealing slides for their presentations. The designer offers a variety of templates and themes that users can use, and it also allows users to upload their own images and videos.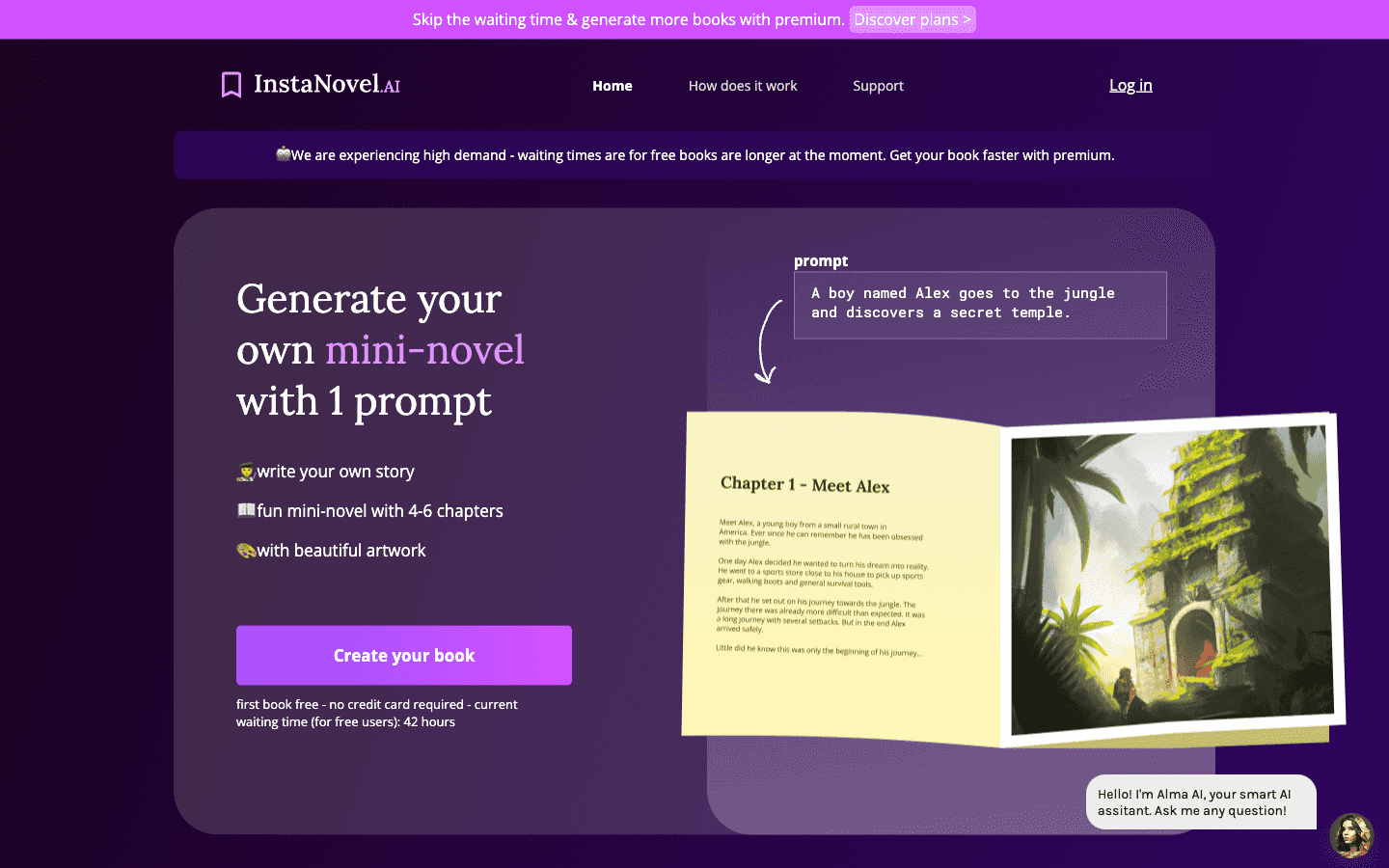 InstaNovel AI is an AI-powered tool that creates mini-novels based on user-provided prompts. It utilizes GPT-3 and Dall-E 2 technology to generate stories quickly without any writing experience. The generated stories are presented in a user-friendly format on a mini-website.
InstaNovel AI currently supports English, with plans to add more languages in the future. It offers both free and premium options. Aspiring writers, content creators, and casual users can benefit from InstaNovel AI by generating unique and personalized mini-novels. The tool is accessible, easy to use, and provides a starting point for anyone seeking inspiration for their stories.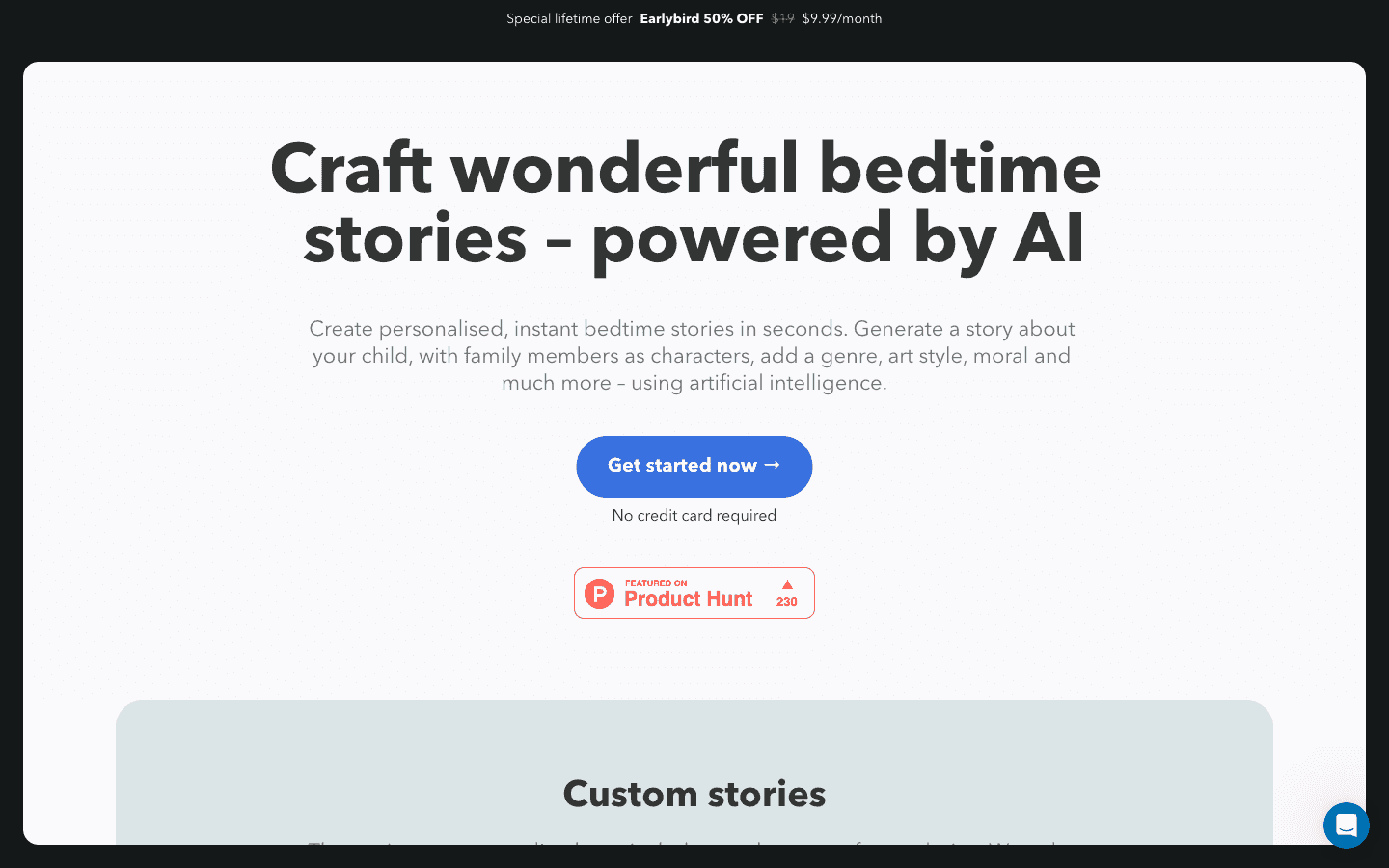 The "BedtimeStory AI" tool is an AI-powered bedtime story creator that allows for personalized and customizable stories. Bedtimestory.ai is an AI-powered platform that allows users to create personalized bedtime stories for their children. The platform uses natural language processing to generate stories that are tailored to the child's interests, age, and personality. 
Bedtimestory.ai allows users to be creative with their stories. Users can choose the characters, setting, and plot of the story, and they can also add their own personal touches. It offers interactive stories that allow children to participate in the story. This can make the stories more engaging and fun for children.
Bedtimestory.ai is a great resource for parents who are looking for a way to create personalized and engaging bedtime stories for their children.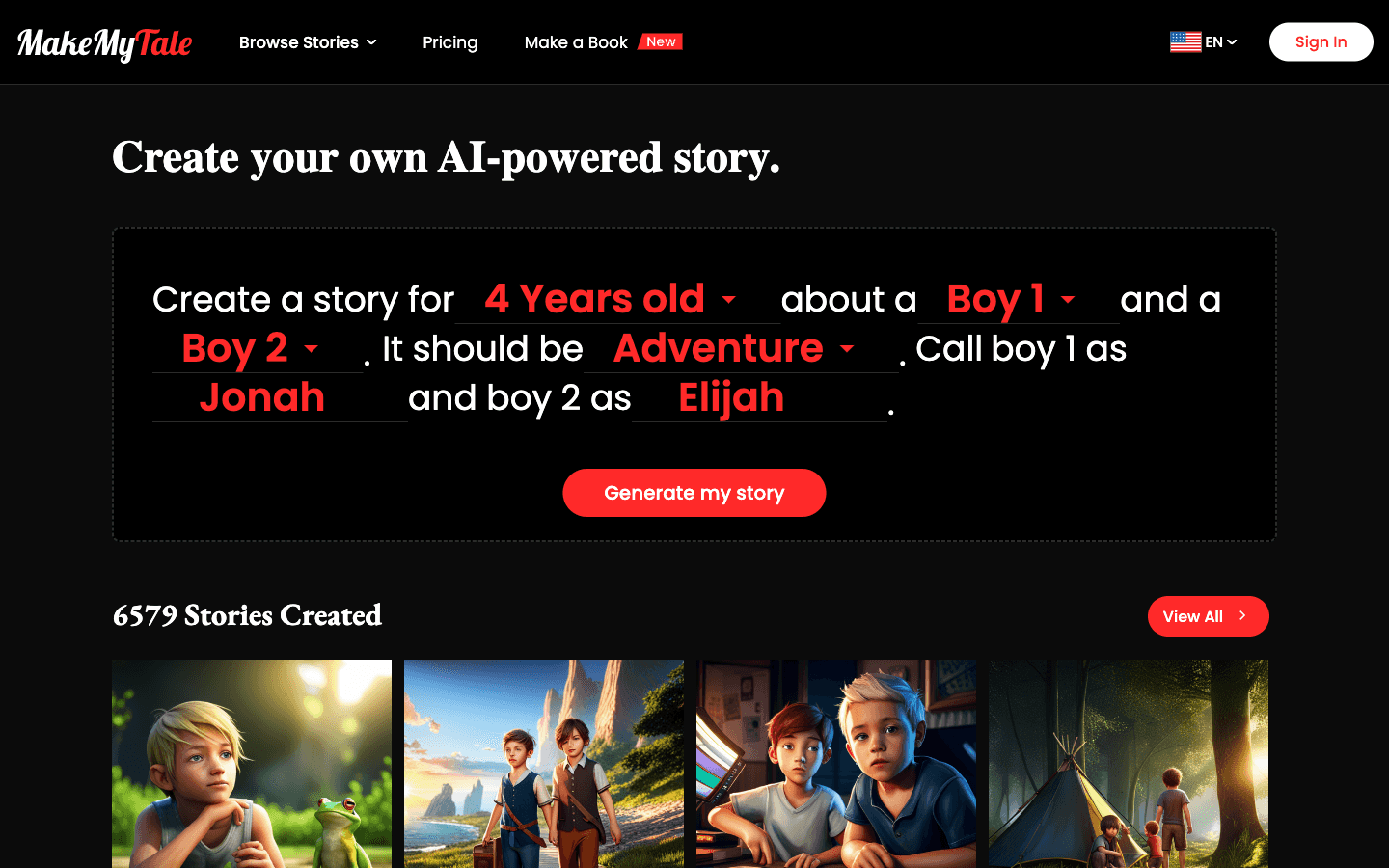 MakeMyTale allows children to create their own AI-powered stories. The platform is designed to be safe and secure for children, and it allows them to express their imagination and creativity through the power of artificial intelligence.
To create a story on MakeMyTale, children first select a genre, such as adventure, fantasy, or mystery. They then choose a character, such as a boy, girl, animal, or superhero. Finally, they provide some basic details about the story, such as the setting and the conflict.
The AI-powered technology then generates a unique story based on the child's choices. Once a story is generated, children can share it with friends and family by putting their name as a co-author. This creates a sense of pride and accomplishment in the child's work, and it encourages them to continue exploring their imagination and creativity.
MakeMyTale is a great way for children to express their creativity and have fun. It is also a safe and secure platform where they can learn about different genres and characters. If you have a child who loves to tell stories, you should check out MakeMyTale.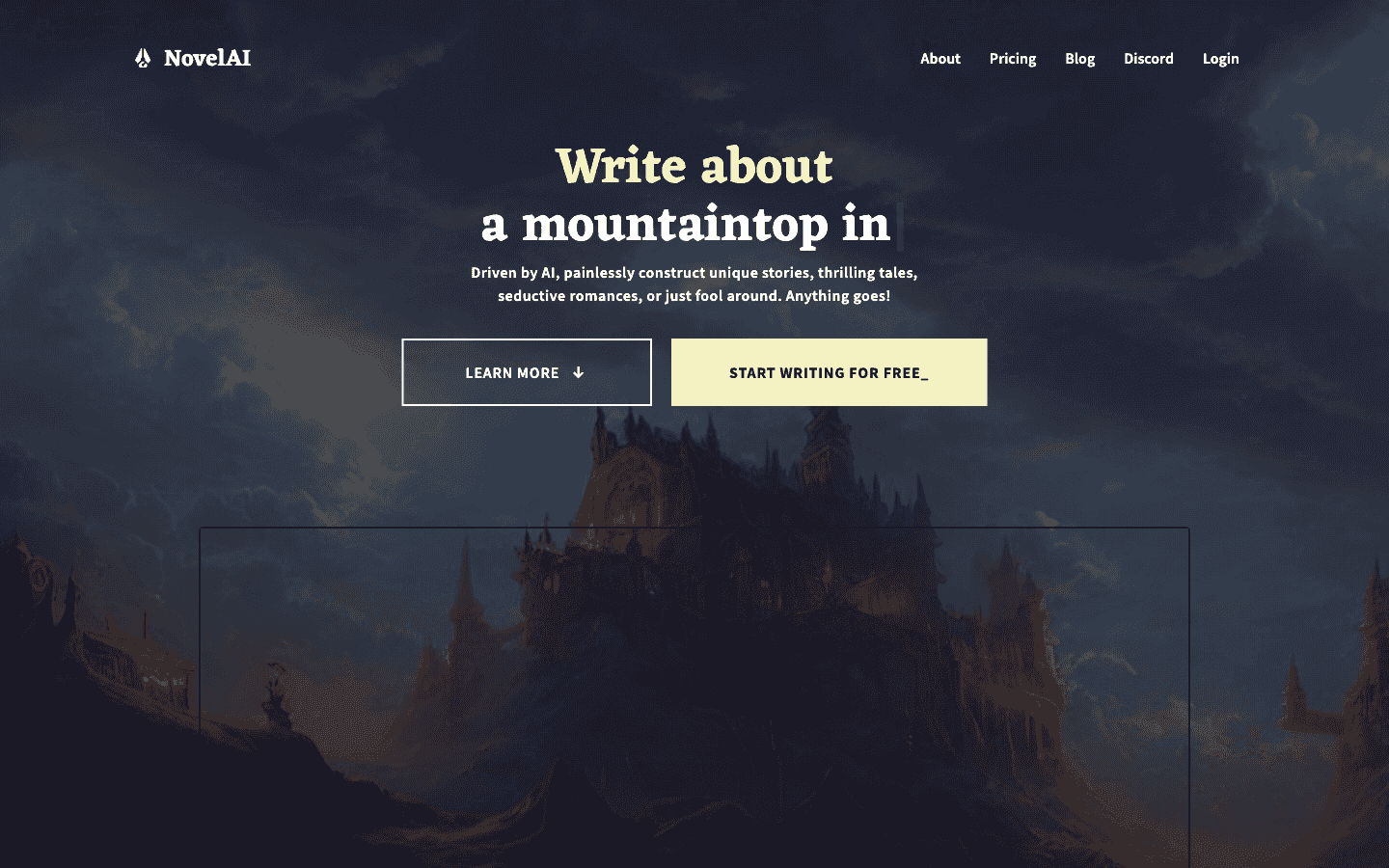 NovelAI is an AI-powered subscription service that helps writers and storytellers create compelling content. It uses natural language processing (NLP) and AI algorithms to generate human-like writing based on user input.
With NovelAI, you can also visualize characters and story moments using powerful AI models. The tool offers a "Lorebook" feature to create and store information about worlds and characters. You can customize the editor with a Theme Editor for fonts, sizes, and color schemes.
NovelAI offers various AI modules, such as drawing upon specific themes or replicating famous writers' styles or training the AI with your own data. This tool is useful for aspiring authors, creative writers, and roleplayers who want to manage their lore.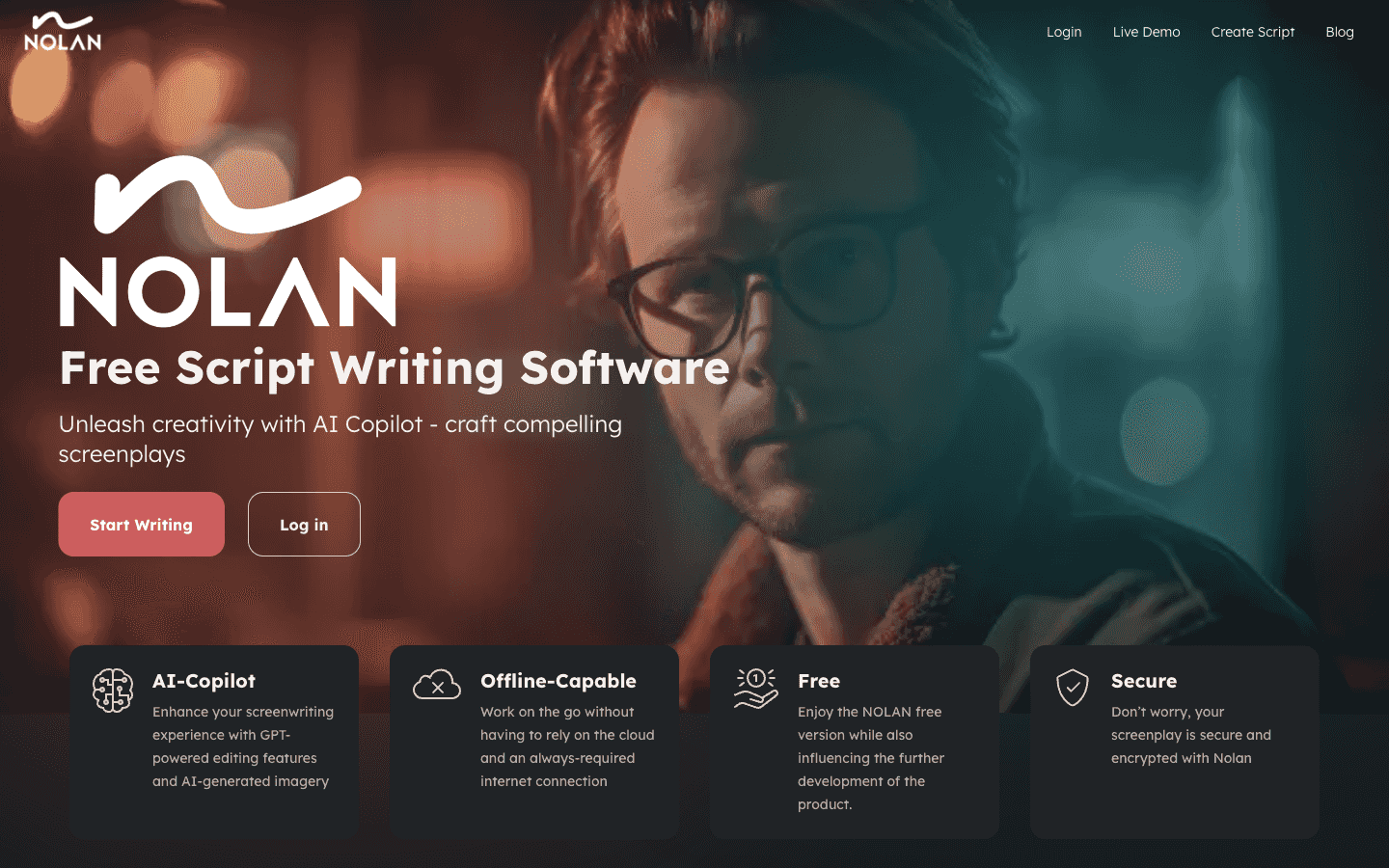 NolanAi is a powerful AI-driven script-writing tool that simplifies the process of movie script writing. It offers offline capabilities, allowing you to work on your script anywhere, without an internet connection. Its advanced AI technology can format your script with ease, so you can focus on creating a compelling story.
NolanAi also comes with a per-row script history list feature that allows writers to track changes made to their scripts on a row-by-row basis. This feature makes it easy to compare different versions of a script and identify where changes have been made. With NolanAi, you can streamline the process of describing interior and exterior settings in screenplays with just one click.
It offers an intuitive interface and advanced formatting options, allowing writers to add vivid descriptions of locations, buildings, and settings to their scripts. NolanAi can help enhance your screenplay's dialogue by generating responses that fit seamlessly within the flow of the conversation. This means that writers can spend less time coming up with natural-sounding dialogue and more time focusing on their story.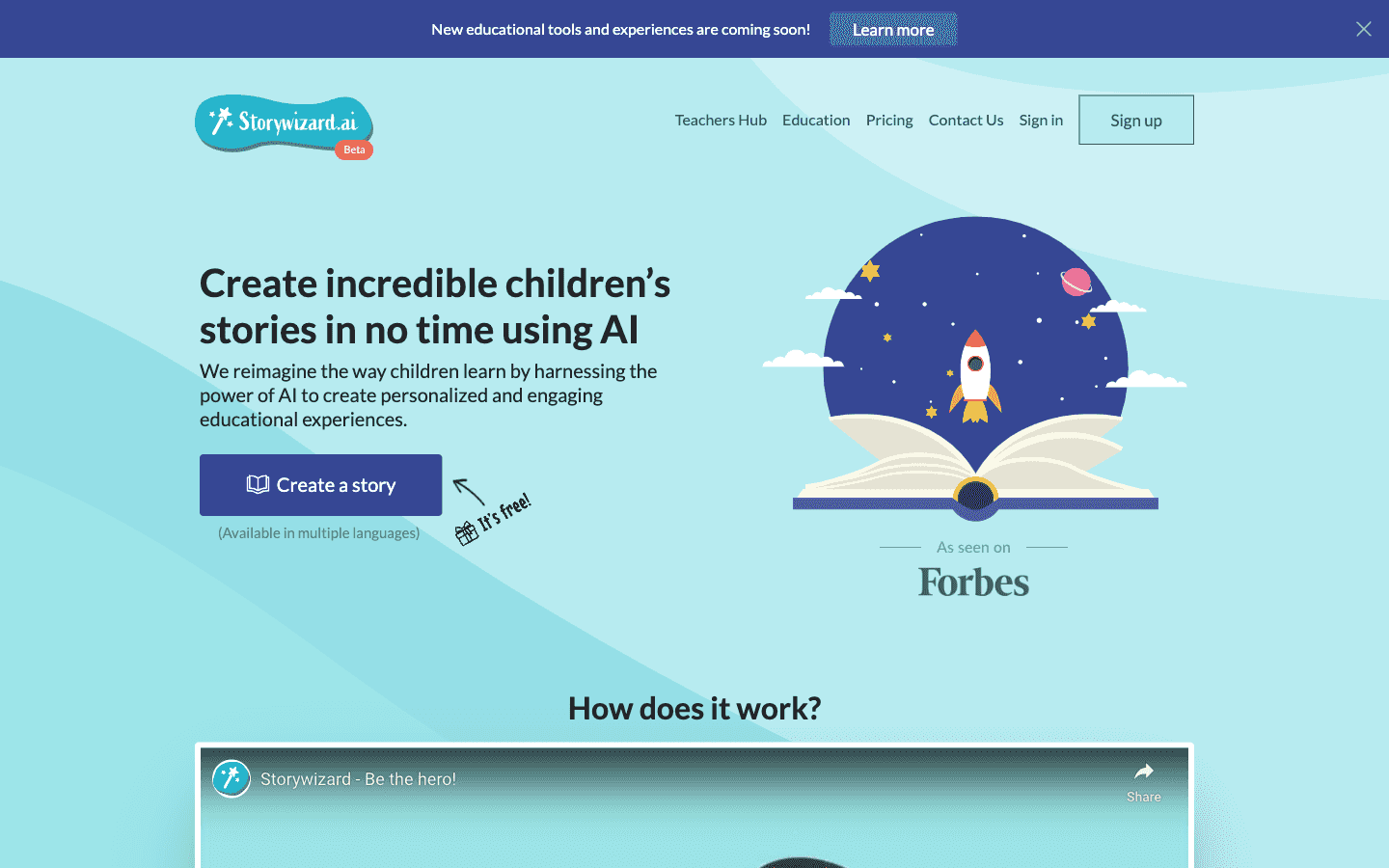 Storywizard.ai is an AI-powered platform that helps users create and share interactive stories. The platform uses natural language processing to generate stories that are tailored to the user's interests and preferences.
It allows you to create captivating children's stories quickly and easily. With the latest advances in generative AI, it generates unique and delightful stories with colorful images and engaging plots.
Key features include crafting educational and entertaining stories to share with loved ones, stimulating children's imagination with captivating narratives and vivid illustrations, and ensuring a child-friendly experience with built-in content filtering. You can customize your story creation experience with tailored bundles and features. 
Also Read: 10 Best AI Image Generator tools in 2023